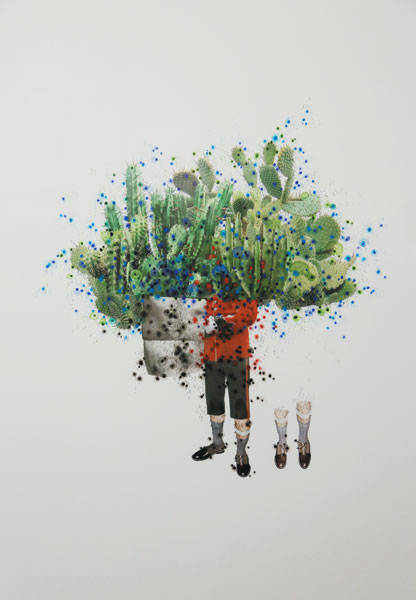 The exhibition Yan Zhan offers a platform for young students of the Central Academy of Fine Arts to display their sculptures, paintings and installations. [Photo provided to China Daily]
CAFA hopes to promote Yan Zhan to be a branded annual event of social influence, just like the school's other annual exhibition, The Start of a Long Journey. The latter, a monthlong show, usually opens after the graduation ceremony each year, and has been held six times. It has become an important event where gallerists, dealers and art collectors scout for young talent.
"Graduation shows" used to be small-scale events only within academic communities, but through the years, respected art schools in China have started to open their doors to the general public.
"It (graduation exhibition) should be an open platform, where a school's achievements are assessed and critiqued by the whole of society," Su adds.
Such shows also offer platforms for students to sell their works, if they wish.
Visitors to Yan Zhan can get almost all upcoming artists' cellphone numbers and e-mail addresses on information booklets. Or they can simply scan QR codes beside artworks and access detailed information about the artists and their works.
Liu says his work has attracted several buyers, and he will sell it to a collector on the condition that he can still exhibit the work for non-commercial purposes. He declines to reveal how much the work will be sold for. His works will be featured at a grand art fair in late August in Beijing, staged by Art Nova 100, a Beijing-based organization that promotes emerging artists.