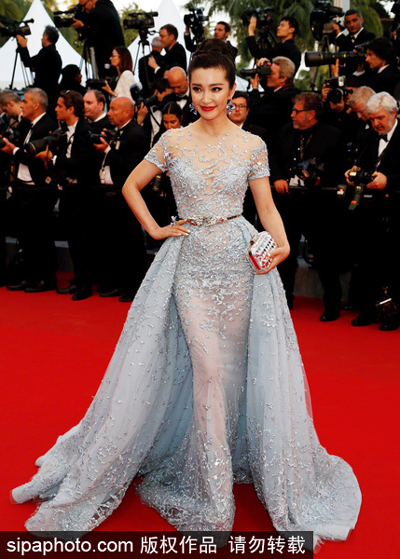 Actress Li Bingbing attends the premiere of "The Sea Of Trees" at the 68th Annual Cannes Film Festival at Palais des Festivals on May 16. [Photo/SIPA]
Chinese actress Li Bingbing is a superstar in her native land, but she only recently started becoming more well known to American audiences.
Her co-starring role in "Transformers 4: Age of Extinction" helped solidify her success overseas. But she doesn't feel the need to go to Hollywood, since Hollywood is coming to China these days.
"There's a shift in the global movie box office. China is a huge box office market," she said, pointing to the blockbuster success of "Transformers 4" and "Fast and Furious 7" in China.
"I don't know the exact numbers but it shook up Hollywood. Both of the films made more money in China than they did in the US. The world is changing and a lot of things are leaning towards this part of the world," Li said. "If you're looking for more money, or a bigger market share, then you have to go to China. So it doesn't matter if we go (to Hollywood), or they come to us, for sure you will see more collaborations in the future."
The 42-year-old actress spoke during an interview at the Cannes Film Festival; she is one of L'Oreal's many celebrity ambassadors at the event. The trip to Cannes this year is a special one because Li made it a family affair. Her parents joined her on the trip to the South of France to experience all the glitz and glamour that Cannes has to offer.
Li said that she owes much of her success to her parents, like giving her good genes, and teaching her the secrets of staying young.
"Your attitude is important. That's the first one. Every day you should have positive energy. Every time you look in the mirror, you should feel that you look younger," she said. "Every time you look in the mirror, you should feel like you're more beautiful. It's important to meditate. That's a state of mind."
Related:
Li Bingbing at premiere of Carol in Cannes