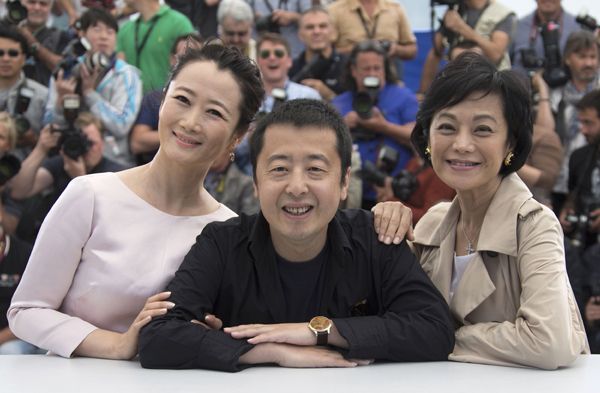 (From left to right) Cast member Zhao Tao, director Jia Zhangke and cast member Sylvia Chang pose during a photocall for the film "Mountains May Depart" (Shan he gu ren) in competition at the 68th Cannes Film Festival in Cannes, southern France, May 20, 2015. [Photo/Agencies]
Chinese director Jia Zhangke had some musical inspiration for his Cannes entry "Mountains May Depart": the Pet Shop Boys.
The disco duo's version of "Go West" plays over the opening and closing scenes of the film, which charts the fates of a woman (Zhao Tao) and the men in her life from 1999 to the year 2025.
It has been called a futurist melodrama, and also depicts China's dizzying social and economic changes as it has gone from Communist state to market-mad emerging superpower.
Jia said he chose the Pet Shop Boys' electro hit - a cover of a Village People song - to capture the energy and optimism of Chinese youth in the 1990s, as the country began to rapidly open up.
"In the mid-1990s, there were a lot of discos popping up in China," the 45-year-old director told reporters on May 20in Cannes, where his film is competing for the Palme d'Or. "A lot of young people loved dancing, including me. We'd go a little bit crazy on the weekends.
"'Go West' was my favorite song and it left a deep impression on me. Because whenever they played this song, all the young people in the disco, it didn't matter whether you know each other or not, would line up and start dancing together."
Jia said the song represented mobility, the idea "that I can go anywhere in the world."
"To me, the 'west' part of the song is not important," he said. "The important part is 'go.'"
Related:
Jia Zhangke's movie screened at Cannes to compete for Palme d'Or
Li Bingbing says China's where the money's at