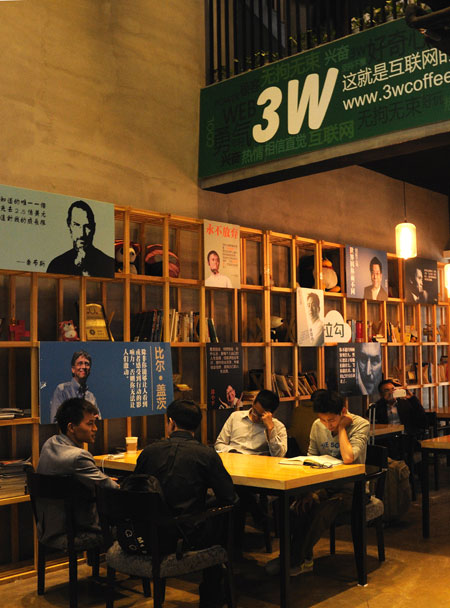 3W Coffee in Beijing's Zhongguancun area is increasingly popular among young entrepreneurs, particularly after Premier Li Keqiang's visit in early May.Photos [Photo provided To China Daily]
Beijing's Zhongguancun area, considered the country's Silicon Valley, is offering geeks a lot more than hot brews. Deng Zhangyu reports.
Outside a coffee shop on Inno Way, a street in downtown Beijing, young people wait to take photos against the backdrop of a big screen that shows Premier Li Keqiang drinking coffee at the same shop with young entrepreneurs. The meeting took place on May 7, and ever since a nearby wall has been covered with banners calling upon people to start their businesses.
Along the nearly 200-meter-long street, there are several other coffee shops, where people gather to talk about investments, projects and big ideas. Dozens of lectures for startup companies are held there daily. It's not unusual to see people in the area entering bookstores to buy copies of Zero to One written by PayPal co-founder Peter Thiel and of related reads.
Inno Way is in Beijing's Zhongguancun area, which is sometimes called China's Silicon Valley. It has become the hub of entrepreneural activity with Li's consistent support and the rising prices of startups on stock exchanges.
Hao Yi'ou, 27, was making a speech about his startup at 3W Coffee when the premier visited on May 7.
"We feel spiritually supported," says Hao, who resigned in December from a financial institution that paid him more than 300,000 yuan ($48,400) a year, much higher than the city's average annual salary.
"The crazy increase of young entrepreneurs in the past two months is incredible. I really feel it," Hao says of a growing wave of startups, most offering mobile Web or online services. His Beijing-based company, Huchill, allows travelers to pay for their trips by installment. The travel service is now offered on WeChat.
The company's other co-founders - Dong Bo, an MIT graduate, and Chen Guo, a graduate of Peking University - are Hao's peers, who also resigned from well-paying jobs to launch the startup.