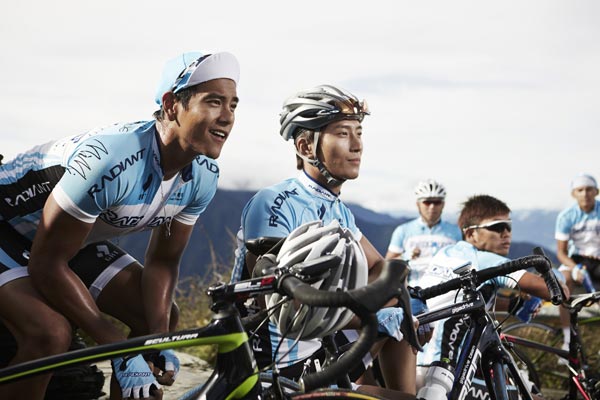 To the Fore, starring Eddie Peng (left) and Dou Xiao, depicts several cyclists' painstaking growth from amateurs to professional athletes. Provided to China Daily
Can a bicycling film break through China's traditional indifference to sports films? Hong Kong director Dante Lam tells Wang Kaihao why he believes so.
Known worldwide as the Kingdom of Bicycles, China has been unnaturally reluctant to showcase cycling on its silver screen-until now.
To the Fore, which premieres on Thursday, promotes the sport's strong roots in Chinese people's everyday lives and its increasing popularity among outdoors enthusiasts.
The star-studded cast includes Eddie Peng, Dou Xiao and Wang Luodan.
Choi Si-won, a South Korean actor and also a member of boy band Super Junior, was also invited to play a major role, thanks to his popularity in China.
"I've been preparing for this film for 15 years," says Hong Kong director Dante Lam, who spoke about the movie at a news conference on Sunday.
"Well, I wanted to be the leading actor at that time," says the 50-year-old, who's also a cycling fan. "But it's better for me to be a director now."
Nevertheless, the actualization of the film appears to be based on more than a personal vision.