Chinese elements help Met attendance reach record high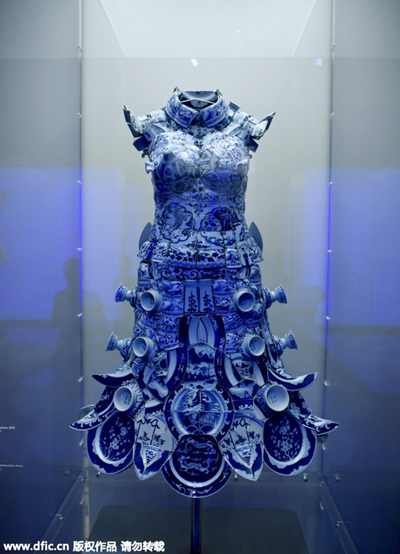 A view of a dress made from porcelain shards on display during a preview of the Costume Institute's spring 2015 exhibition 'China: Through the Looking Glass' at the Metropolitan Museum of Art in New York, New York, USA, May 4, 2015. The exhibit, which runs from May 7 to Aug 16, focuses on the influence of Chinese aesthetics on western fashion and looks back at some of the history of Chinese design. [Photo/IC]
Authorities with the Metropolitan Museum of Art in Manhattan, New York, announced Tuesday that the annual number of visitors to the iconic museum has reached 6.3 million.
It's the highest number since the Met began tracking admission statistics more than 40 years ago,said Thomas P. Campbell, director and CEO of the Met.
The record high of attendance to the Met has been partly attributed to Chinese elements and tourists.
Exhibition attendance was strong over the course of the year, with 20 of the exhibitions that opened during 2015 receiving more than 100,000 visitors, according to Campbell.
"China: Through the Looking Glass," an exploration of China's influence on Western fashion that opened on May 4, for instance, is the highlight. It has had attracted more than 530,000 visitors by July 28, according to the data of the Met.
The Met's attendances were also were buoyed by influx of Chinese tourists, for whom, the Met is a must-see in the Big Apple.
China is New York City's third largest source of overseas tourists, behind the United Kingdom and Brazil, contributing 809, 000 visitors last year and 932,000 more expected this year, a rise of 15 percent, according to NYC&Company, a marketing and travel promotion firm.
"With unprecedented growth in all facets of New York City's tourism industry and the recent Chinese visa extension from one to 10 years, this is the ideal time to present New York City to media and the travel trade in our third-largest overseas market," said Fred Dixon, president and CEO of NYC&Company.
Related:
East meets West in exhibition showing Chinese influence on fashion
Met gala draws Chinese fashion bloggers' criticism
Lost in translation: Met Gala's China theme leads to hilarious Chinese memes