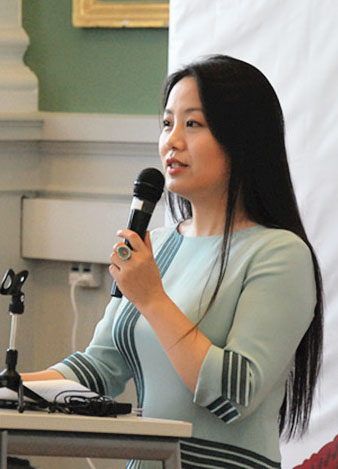 Chu Yan delivers her lecture Explore the Beauty of Chinese Costume.[Photo/chinadaily.com.cn]
"It's a pity that when I travel abroad, I find that some foreigners think that Han costumes are actually traditional Japanese clothes," Chu Yan said in her workshop in Beiyuan, northern Beijing.
Known by many as the costume designer for the 2014 APEC meeting, Chu - individual fashion designer and associate professor at Beijing Institute of Fashion Technology – thinks it's time the Chinese renew their own costume culture.
This June, Chu was invited as the first speaker for a lecture series of Chinese Culture Talks organized by the Chinese Ministry of Culture. In Paris, her topic was on Exploration of the Beauty of Chinese Clothes, where she discussed the evolution of Chinese clothing.
Many professors from the world's top design colleges who attended the lecture were rather inspired. One of the professors even went to her and said, "There's no need for you to learn from us, it should be the other way round."
She said she felt proud at that particular moment. But she is also quite aware that to revive traditional Chinese clothes, there's still a long way to go.