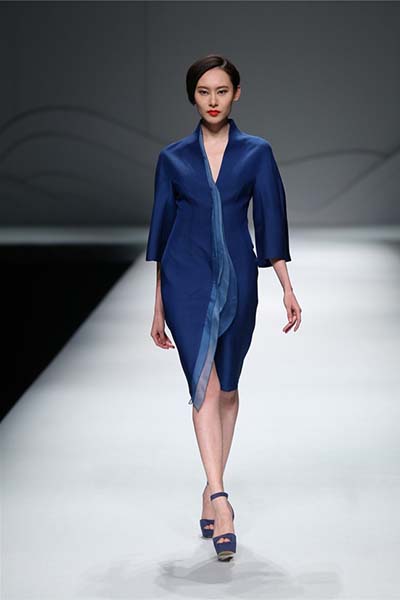 A model displaying Chu Yan's Rulan collection during the 2013 China Fashion Week.[Photo/chinadaily.com.cn]
"You have to really work on it to make it"
Chu established her own clothes brand, Chuhetingxiang, in 2011. Targeted as a customized brand, both it and Chu were known only to a very small group of people at the time.
The situation fundamentally changed in late 2014 when the title of APEC costume designer fell on her. "Many investors and ready-to-wear costume companies came to us, negotiating on expanding plans to hit the market," Chu said.
But she didn't accept a single of one the olive branches. She said that's because she knows who she is, where she's at and in which direction she's heading. More importantly, she well knew that it's better "not to bite off more than you can chew".
"After my visits to countries like Italy and France – places where the fashion industry is centuries old - it dawned on me that the Chinese actually didn't really lack revolutionary ideas, but people who are devoted to do what they do," she said.
"I mean, the world's luxury brands are not built on money, but the pursuit for perfection," Chu said.
As a Chinese clothing enthusiast, Chu has been studying the inheritance and innovation of traditional Chinese clothes since she was a graduate student. Now, as a PhD student, she is probing deeper into this research topic.
"I want to show to the world the spirit of the Chinese people. It is more about the mood and artistic conception rather than something tangibly Chinese," Chu said.
To achieve this, she and her team not only worked on making beautiful clothes, but on reviving Chinese people's mentality and way of life.
"Clothes say a lot about lifestyles, so we have to immerse in the Chinese lifestyle to make the clothes," Chu said. "The clothes and your life are an integral unit, you can't separate one from another," she said.
Only when we have fully absorbed the essence of traditional Chinese clothes can we innovate, Chu said.
"The most terrible thing is only having superficial knowledge of everything; designs based on such knowledge cannot stand the test of time," Chu said. "You have to really work on it to make it."
Feng Minghui contributed to this story.