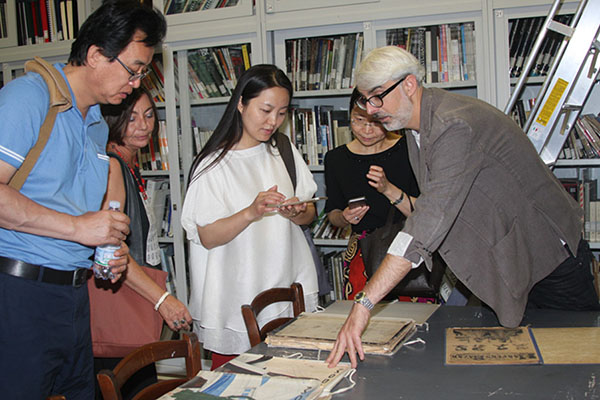 Chu Yan(middle) talks to Andrea Lupo Lanzara(first right), general director of Accademia di Costume e di Moda, in the design office of the academy in Rome.[Photo/chinadaily.com.cn]
"A composition that allows no mistakes"
"State banquet, world leaders, special occasions" - Chu said the process of APEC costume design is like writing an essay on a given topic, of which these are the key words.
Her "composition", which stands out among over 100 designs, is made of Song brocade, featuring a split collar and a pattern of seawater against a cliff. Colors for leaders to choose from included olive drab, ocean blue, dark purple and crimson.
Chu said the design was created after careful thought and consideration. The fabric, Song brocade, for example, was chosen as "it is neither too glossy nor coarse", and that "the matte texture could characterize the restrained and low-key personality in the Chinese".
It was after over a dozen attempts that Chu and her team made the final piece. But she said that the design is in line with her style.
"The requirements of APEC costume design actually fit my design philosophy quite well," Chu said. "they both aspire to demonstrate the image of the Chinese nation and the spirit of the Chinese people – learned and refined, mild and tolerant."
Chu said she has been working on such a goal for quite a long time. One thing that is different from her formal design is that she has to know exactly what everything means. "I have relied much on my intuition in my designs, but as an APEC costume designer, I can't do that - because APEC costume design is like a composition that allows no mistakes," she said.
"Each pattern has its own symbolic meaning, and so I have to study the cultural background of the patterns by tracing back to their origins, and their cultural background back to understand them," Chu said.
She said though it was tiresome, she felt fortunate to have gone through such a process.
"Don't mess up with a single thing - this is exactly what's needed to make first-class goods," Chu said.