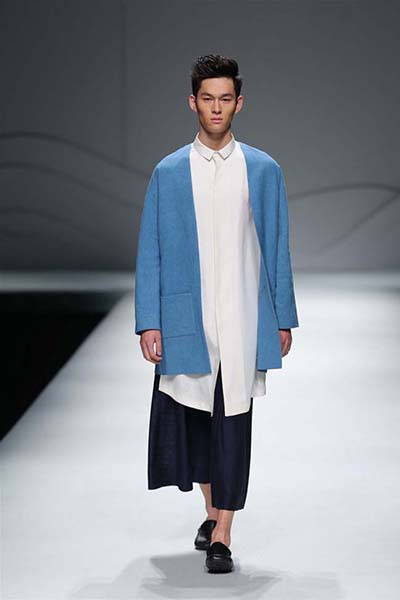 A model displaying Chu Yan's Rulan collection during the 2013China Fashion Week.[Photo/chinadaily.com.cn]
"I'm grateful for the Japanese for noting our Chinese culture"
"For most foreigners, and many Chinese, Qipao (or cheong-sam) is the only thing they may recall in terms of traditional Chinese clothes," Chu said, with disappointment in her voice.
According to Chu, the qipao accounts for only a very small fraction of Chinese clothes, and it alone can never generate the spirit of traditional Chinese clothes – "it is pretty much just a symbol for Chinese clothes," she said.
"If you go to the museums, you'll know that there are also these gorgeous clothes from the Han and Tang dynasties and simple and rustic clothes from the Song Dynasty, to name just a few," she said.
Chu said it is important to bring alive those clothes that have been displayed in museums for ages, as we have unwisely shelved them for too long.
"The Chinese had almost forsaken whatever there is in our culture since the fall of the Qing Dynasty (1644-1911). But the more we learn from the West, the more we realize the need to learn from our own culture," Chu said.
In so doing, Chu said China might turn to its neighboring country, Japan.
"When master dyer Yoshioka Sachio told me that the traditional natural dying technique actually comes from China and there's no need to learn from them, I felt tongue-tied. Embarrassed as I am, I told him that 'but we have long abandoned them, and now we have to learn from you'," she said.
Chu said she was amazed to have found many traditional forms of Chinese craftsmanship – Chinese have forsaken because of low productivity - are still alive in Japan.
"Japan has been doing very well in keeping its traditions. It is like a memo of the Chinese culture, for which I feel rather grateful," she said.
"We can't rest on our splendid creations, because I know now we are miles away in practice," she said.