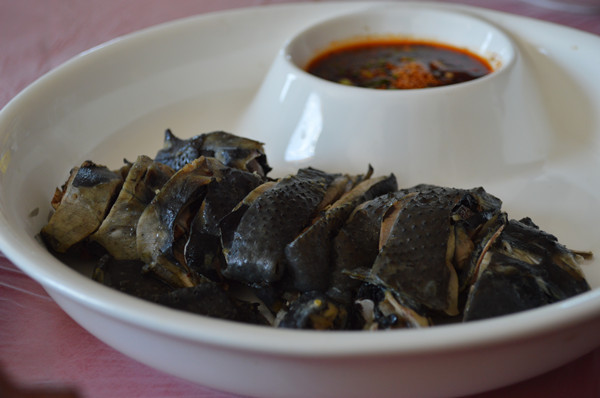 Black chicken is believed to have a tonic function. [Photo by Jiang Wanjuan/chinadaily.com.cn]
Besides being a comfort food in winter, chicken soup is also a favorite food of new Chinese mothers in the month after giving birth, known as zuoyuezi, which literally means "sitting the month".
The traditional custom of postnatal care is so important to the Chinese that an old Chinese saying goes: "Eat well, sleep well, nothing is better than sitting the month well." In addition to the many no-nos in the month-long period, such as no showering and no going outdoors, a special diet is also required.
The tonic soup is believed to be able to help women recover from childbirth and produce more breast milk, according to the theories of traditional Chinese medicine.
In many rural areas of China, it was a traditional custom for the new mother's parents to send live chickens, glutinous rice, eggs and rice wine to their daughter for "sitting the month".
The custom is still kept in Luxian county, in Luzhou city, Southwest China's Sichuan province, but the way of making the traditional well-known Yuemu (new mother) Chicken Soup is mastered by only a few.
In fact, the technique of making the Yuemu Chicken Soup in Luxian has been included as a provincial-level intangible cultural heritage in 2011.