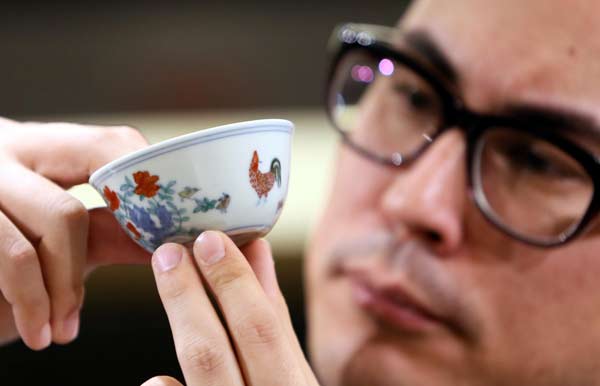 The doucai "chicken cup" from the Ming Dynasty will feature in Sotheby's spring sale in Hong Kong on April 8. [Photo/Xinhua]
A doucai "chicken cup" from the Ming Dynasty (1368-1644) is expected to set a new record for Chinese porcelain at auction, with estimates of between HK$200-300 million ($25.7 – 38.6 million).
The cup, named for the subject matter painted on it and created during the Chenghua reign (1465-87), will feature in Sotheby's spring sale in Hong Kong on April 8. It comes from the Meiyintang Collection, a grand European assembly of imperial Chinese porcelain and, before that, was in the hands of several well-respected collectors, including Mrs Leopold Dreyfus, Sakamoto Goro, Giuseppe Eskenazi and, reputedly, Edward T Chow.
The creation of "chicken cups" reached its peak during the Chenghua period, and they were celebrated for their tactile material, elegance of color arrangement and distinctive painting style.
Produced in a small amount, specimens are preserved in no more than a few private hands and prestigious museums including the Taipei-based "National Palace Museum", the British Museum and the Metropolitan Museum of Art.
"Ever since the Ming Dynasty when they were produced, Chenghua period 'chicken cups' have been praised and treasured by emperors and connoisseurs alike. Given their extreme rarity, they are by definition the crowning glory of any collection of Chinese porcelain," said Nicolas Chow, international head of Sotheby's Fine Chinese Ceramics and Works of Art.
A Qianlong period vase fetched $85 million at London's Bainbridges auction house in 2010. However, the Chinese buyer who won the bidding refused to pay the 20 percent auctioneers' fees. Last year, the vase was finally transferred to an unidentified buyer from the Far East who paid up to 25 million British pounds ($41.5 million) in a closed-door deal.
Also in 2010, a famille-rose floral medallion bottle vase from the Qianlong period was sold for HK$140 million ($18 million) by Sotheby's to Hong Kong collector Alice Cheng.
Sotheby's spring sales in Hong Kong will be held from April 4-8 at the Hong Kong Convention and Exhibitioin Centre.