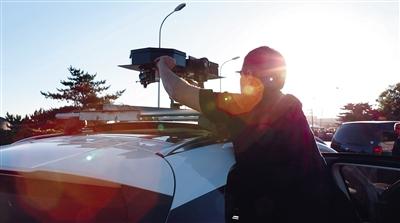 Argentine photographer Esteban Pastorino Diaz shoots a photo of the Second Ring Road in Beijing with the longest photographic film. [Photo/Chinanews.com]
Argentine photographer Esteban Pastorino Diaz has broken a Guinness World Record for the longest photographic film after taking one picture of the Second Ring Road in Beijing, reports the Beijing News.
Esteban set the record with a 79.37-meter-long film. To ensure the photo's quality, Esteban made three attempts at capturing the scene on the morning of June 20, after arriving in Beijing three days in advance to prepare. Through careful selection, Esteban chose the 79.39-meter-long film to apply for the Guinness World Record.
Esteban's record has been officially recognized. Li Bai, Guinness China's record management director, issued a certificate to Esteban to mark the achievement.
Assistant Wan Xicong said the entire shoot relied on a panoramic camera made by Esteban. "It took time to tune the camera as well as adapt to the weather. The developing process for such an extra long film was also different from regular films. It required special tools. A small blunder could ruin the whole effort."
The previous record had also been accomplished by Esteban in 2012, with a 39.5-meter-long film. The Second Ring Road in Beijing was an attractive subject, as both traditional and modern architecture along the route offered sharp photographic contrast, said Esteban.
It took Esteban one and a half hours to shoot the record-breaking photo. Starting at 4 a.m., he travelled 32.7 kilometers in a car that was running at 15 miles per hour to capture the shot.