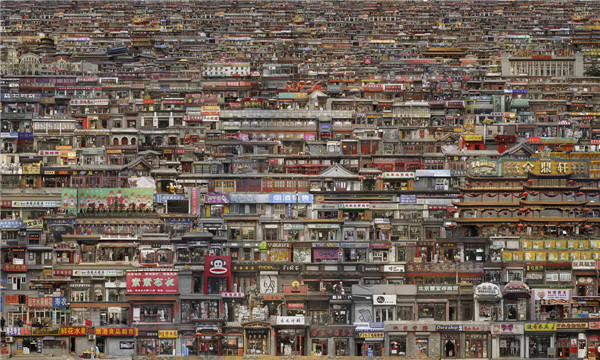 Beijing Market is among French artist Jean-Francois Rauzier's hyperphoto works. [Photo provided to China Daily]
Jean-Francois Rauzier creates pictures using pictures.
The French artist goes beyond simply snapping photographs. He spends months assembling hundreds of tiny telephoto closeups into bigger mosaics that are up to 3 meters high.
The 63-year-old coined the word "hyperphoto" 15 years ago to describe the genre fusing photography, technology and art.
His creative process is dreamlike, he says. Hence the name of his upcoming show in Yunnan province's Dali, Looking for A Dream.
"Life is not easy. We need dreams," he says.
"The virtual reality I present in my photos is a dream based on reality, like a movie."
He spent a week in Beijing snapping more than 30,000 photos, from which he created four works. Among the 12 photos to be shown in Dali, one is of Beijing's hutong, and another is of an apartment building. He took those photos during his first visit to the city in 2012.
Beijing Babel renders a tall apartment building Rauzier created by piecing together thousands of photos of a buildings commonly seen in Beijing.
It's part of his Babel series, in which he creates similar images from shots he takes of residential buildings in cities he visits.
"A city's landscape can be vividly shown in an apartment building. There is a story behind every window," he says.