Missing links?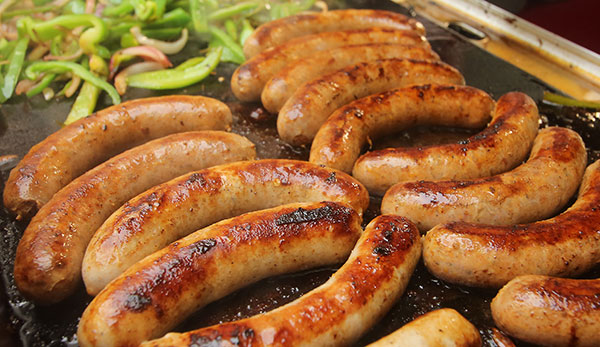 The smell of sausages, onions and peppers on the grill brought Horowitz his first customers at a summer cookout in 2012.[Photo by Bruno Maestrini/China Daily]
Beijing expats craving Western-style sausages often follow their noses to the guy grilling at local food fairs. Mike Peters sits down with a young entrepreneur who was into pearls before swine.
Andy Horowitz is an unlikely sausage-maker.
He grew up in a Jewish family in the United States, in a household "where we had a separate set of plates, forks and glasses" to be used with food that was kosher. His secret vice as a teen was pepperoni pizza, but his parents weren't so strictly religious that his secret had to be kept too dark.
The kosher awareness he grew up with, meanwhile, brought more to his current project than simple irony.
"In my family, we were very aware of everything that we put in our glass, on our plate," he says. "That appreciation for quality, healthy food is a major part of what I do when I make sausages."
Horowitz freely admits he's no culinary wizard. He came to China not as a chef but a jewelry artist, and he still makes occasional art pieces as gifts or for clients as auction items.
So how did he drift from pearls to pork?
"My craft-jewelry partnership fell apart," he says ruefully, acknowledging a familiar tale for foreign entrepreneurs. "I needed to find something else to do that would give me a future."
He found it at a barbecue hosted by his friend Steve Shaver, a professional photojournalist and former chef, who in 2012 roped him in to help with a summer cookout.
"We had a lot of stuff on the grill," he says, "but the sausages we had prepared - after grinding the meat and stuffing the casings ourselves - were a huge hit. Just the aroma they created made people happy and excited."