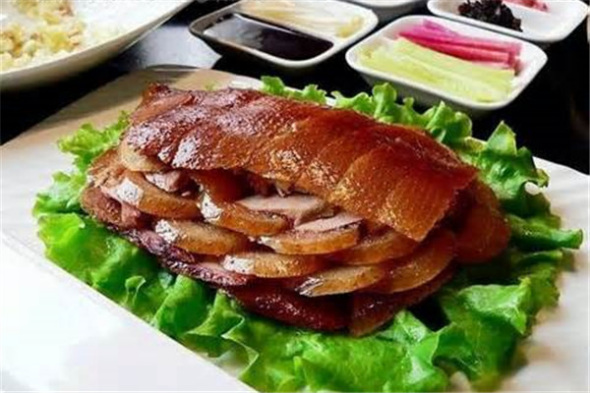 Peking roast duck is displayed at the Milan Expo 2015. [Photo/CNTV]
The China Pavilion at the Milan Expo covers more than 4,500 square meters. Displaying to the world China's long-standing relationship with agricultural, especially food culture, the China Pavilion has become one of the most popular in Milan.
Echoing the Milan Expo's theme "Feeding the Planet, Energy for Life", the China Pavilion has been designed to evoke the look and texture of golden wheat fields swaying in the wind. It invites people to learn about China's time-honored agricultural history, especially its rich food culture.
The pavilion consists of four parts: Heaven, Human, Earth and Harmony. And all of them tell the story of the relationship between Chinese people and their food.
One of the highlights are these clay sculptures, showcasing the production process of one of China's signature foods -- Peking roast duck.
And this eye-catching installation called "Land of Hope" shows the colorful filed, which is made up with more than 20,000 LED lights. It symbolizes the scientific and technological achievements China has made.
The China Pavilion also features many activities for visitors to take part in, including the Sino-Italian Agricultural and Food Forum, cultural weeks, and a series of art performances and intangible cultural heritage shows.