Fan Bingbing and Li Chen admit they are dating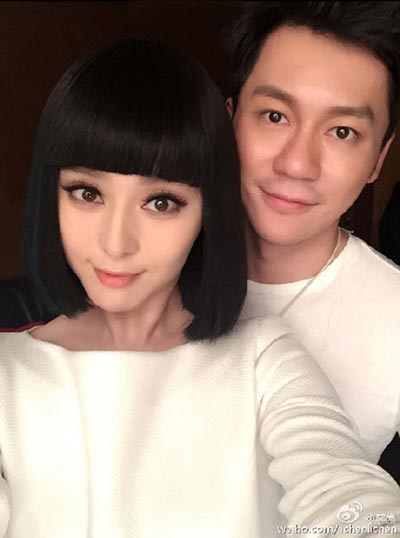 Chinese actor Li Chen posts a photo of himself with renowned actress Fan Bingbing with a caption which announced they're dating on May 29, 2015. [Photo/Weibo.com]
Actor Li Chen has posted a photo of himself with renowned actress Fan Bingbing with a caption which announced they're dating.
Fan Bingbing later reposted Li Chen's weibo to confirm the relationship.
Li and Fan have known each other for over ten years.
Their latest project together is the popular TV Series "The Empress of China," also known as the "Saga of Wu Zetian" which hit the small screen last year.
Sources say the two have been dating for some time, but the actors have denied this.
It is the first time that Fan publicized her romance since she made her debut 18 years ago.
In May 2015, Fan topped Forbes magazine's annual ranking of Chinese celebrities for the third consecutive year, with an annual income of 128 million yuan in the past year.
Related:
Post-90s shines in 2015 Forbes China Celebrity 100 list