Missing links?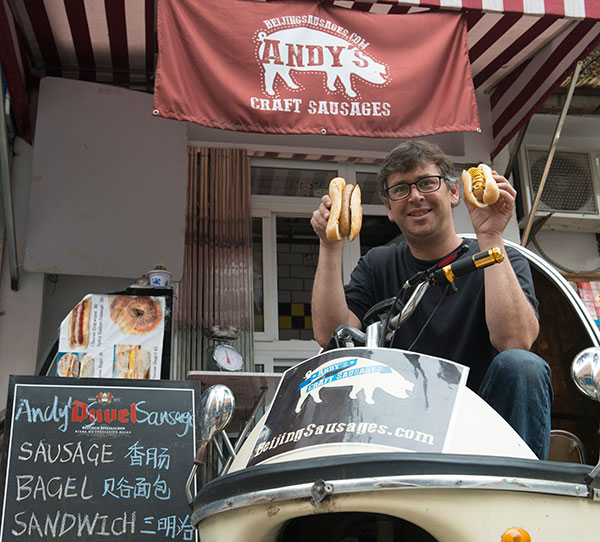 Andy Horowitz savors the chance to deliver sausage orders in his egg-shaped "Hamborghini". [Photo by Bruno Maestrini/China Daily]
"People kept asking, 'Where can we buy them?'"
A light bulb clicked on, and soon Horowitz had a meat grinder, sausage stuffer and mixing bowl on the TV stand in his living room. From making sausages for his friends, a business has grown into a commercial kitchen and a storefront in the capital's expat haven of Sanlitun. He takes on so much catering and food-festival business that Horowitz sometimes feels glued to his delivery vehicle, an egg-shaped bubble car he's dubbed the "Hamborgini".
His top seller may be his Italian sausage. His attempt to add the fennel-rich flavor of that sausage to a classic Italian-American Sunday gravy - made with meatballs and red sauce - was an early challenge in his sausage-making career. "Local markets didn't have an Italian sausage that had the right flavor profile," he says. "They just had sausages labeled 'Italian'."
Sourcing his raw meat from the reputable German wholesaler Metro, his operation now produces about 10 flavors of sausage free of nitrates and nitrites - including spicy Italian, Lincolnshire sage and the cheese bratwurst - as well as two kinds of bacon and sausage rolls, which can all be found at a number of Beijing restaurants and brew pubs as well as his own shop. The menu at Andy's Craft Sausages also includes fresh bagels from Traitor Zhou's, dressed with cream cheese, smoked salmon, red onion and capers (45 yuan; $7.30) or with a fried egg, an Andy's breakfast sausage patty and cheese (39 yuan), or country ham (42 yuan).
Through July 15, he's also operating a pop-up container in front of the ultra-chic Parkview Green center, Fangcaodi.
"I think we've demonstrated that it's possible to succeed without a big, or even moderate investment," he told The Beijinger, the free monthly magazine which recently named him the city's 2015 Food Entrepreneur of the Year.
"All you really need is a heaping helping of determination. I started with a 3,000-yuan loan from a friend, which I paid back in sausages. That was the deal: 'I'll buy the equipment, you keep making those sausages for us'."
IF YOU GO
Andy's Craft Sausages
8:30 am-7:30 pm; No 201, 29 Sanlitun South Road, Chaoyang district, Beijing. www.beijingsausages.com
Parkview Green (Fangcaodi) pop-up
10 am-10 pm daily through July 15, No 9 Dongdaqiao Road, Chaoyang district.