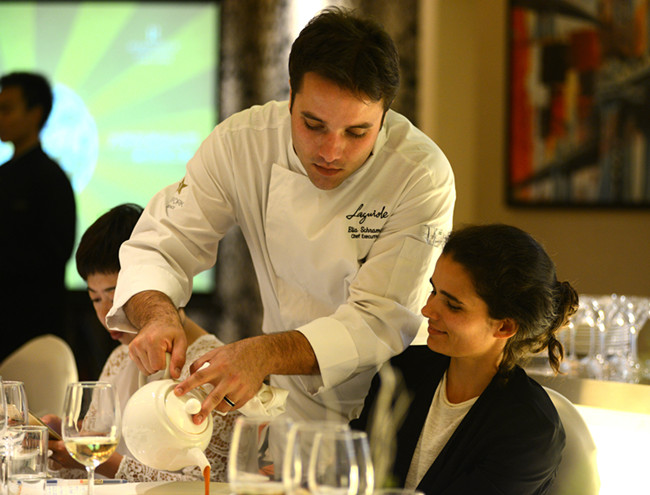 Elia Schramm serves soup at the Brazilian food festival in Beijing.[Bruno Maestrini/China Daily]
Nobody does barbecues quite like Brazilians and now one of the country's top chefs is in China showing how it's done, Dong Fangyu reports
When I was in middle school, my classmates and I used to like to have dinner at a barbecue restaurant near our campus. Hilarious waiters would carry huge skewers of meat and swagger and dance around the room while we chose our cuts of meat.
It was not until many years later that I learned that the ritual we so enjoyed was called rodizio, a popular type of restaurant service in barbecue restaurants in Brazil.
Restaurants that do Brazilian barbecues have been in China for a while now. Indeed, when most Chinese people think of Brazilian food it is likely the first thing that springs to their mind is barbecue.
The rodizio style is probably relatively easy to mimic, but reproducing the authenticity of the Brazilian flavor is another thing altogether. As for the Brazilian fare that is served in Beijing, a Brazilian friend tells me: "The cuts are not right for a barbecue, and the meat is not even authentic, not like back home".