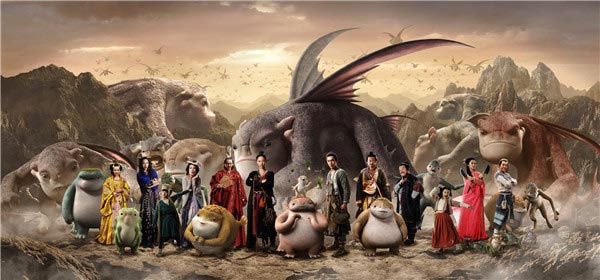 A film poster of Monster Hunt. [Photo/IC]
China's total box office sales surpassed 400 million yuan (about $64.4 million) on July 18, a record for a single day, according to data released from the China's media watchdog State Administration of Press, Publication, Radio, Film and Television.
The films Monster Hunt, Jian Bing Man and Monkey King: Hero is Back contributed to 89.89% in ticket sales, which totaled 434 million yuan from 9.6 million viewers on July 18, surpassing the previous record of 383 million yuan held by Fast and Furious 7 on its opening day on April 12.
Aside from the rise in quality of domestic films and the volume of student audiences on summer vacation flowing into the theaters, one of the major contributors to the box office came from third-party ticket sales.
Online retailers and subsidies
It is not difficult to locate "automated ticket machines" in theaters nationwide, including those from WeChat, Taobao, Baidu Nuomi, Maoyan, etc. Consumers can purchase discounted tickets at a price much lower than the commercial price (usually ranging from 50 to 120 yuan) through apps of these retailers beforehand and print the tickets at the theaters. Some retailers are also providing subsidies to the theaters and offering a package of ticket and a snack for only 10 yuan. For films such as Jian Bing Man and Monster Hunt, smartphone app Taobao Film is subsidizing 22 yuan to theaters for the lowest ticket price offered at 32 yuan (which includes 1 yuan for system operation and 1 yuan for printing tickets).
Furthermore, many films offer previews prior to their nationwide openings at theaters, and online retailers are often the ones who sell tickets for these previews. Film Monster Hunt offered previews at 717 theaters. Contractor Meituan Maoyan sold the tickets online, and contributed to more than 68% of the 5.02 million yuan revenue from ticket sales.
According to data released from Ent Group, a databank that tracks the performance of China's film and television industry, ticket sales from third-party sources amounted to 9.2 billion yuan in the first half of 2015, counting up to 45.2% of the total nationally.
"Going to films is one of the most accepted mode of consumption by young viewers. With the subsidies, the real motive of the online retailers is to expand the volume of installations of their apps in the smartphones of this group of viewers," said an insider source.