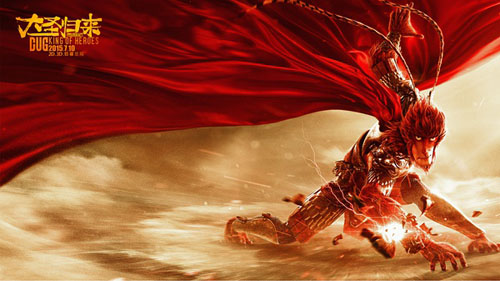 Poster for Monkey King: Hero is Back. [Photo/Agencies]
Rising film quality
"We are in the middle of summer vacation. The films were good and the data was taken on a weekend, so it's not hard to imagine a sharp rise in sales," said box office expert Liu Jia.
"Sales will drop after the summer vacation ends. If the films are not to par, sales will also fall. Viewers will only pay for what they like. The rule that applies in all market economy also goes for films," added Liu.
Most domestic films that are playing currently in theaters have received positive feedbacks from reviewers and audiences alike.
"Aside from technology, a good film must attract audiences with its storyline. Monster Hunt and Monkey King: Hero is Back have both told good stories," writes Douba Du Heng, a viewer in Chengdu.
Younger viewership
He Tianjiao, an expert in the film industry, said record breaking ticket sales came from the accelerated growth of China's films in recent years.
First, the number of screens in China surpassed 26,000 in China in the first half of 2015, which laid a solid foundation for film production and screening. Second, film marketing has diversified and online retailers are adding the extra kick to boost ticket sales.
Ticket sales from younger viewers are increasing drastically. Young viewers who saw films more than 12 times a year made up 18% of the total number of viewers, and contributed to about 46% of ticket sales. In response, marketing strategies, such as purchasing tickets online or through smartphone apps, have adjusted accordingly to suit the lifestyles of younger audiences.
Related:
China's single-day box office hits record high of 400 mln yuan
10 domestic animated films to see this summer