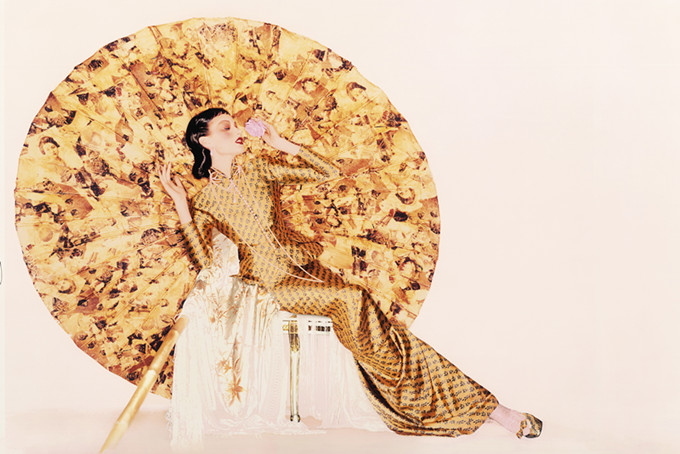 Western designers' interpretation of Chinese style-John Galliano for Dior, 1997.[Photo provided to China Daily]
In 1951, when the late French designer Christian Dior used a piece of customized fabric with Chinese calligraphy printed on it for a cocktail dress, little did he know that the script - taken from an eighth-century stele inscription - was part of a medical report on intestinal disorders.
Today, the same dress is on show at New York's Metropolitan Museum of Art, where it is exhibited on the same floor as an intricately embroidered one-shoulder "dragon gown" created for Chinese actress Fan Bingbing by Laurence Xu, one of the country's most exciting designers.
Titled China: Through the Looking Glass, the ongoing exhibition that started in May with a gala evening, has been very popular among visitors since then, according to US media. But among some 200 pieces of high-fashion clothing on display, only three are by two homegrown Chinese designers.
Western fashion history is full of references to Chinese culture and the Met show isn't any different, fueled by the imagination of those that have "a thing for the Orient", according to Xu.
And while it is difficult to say with certainty when Western fashion fraternity's fascination with Chinese styles started, it is well-known that silk caused a sensation when it first reached ancient Rome through overland and sea routes from China.