Unraveling the mystique of the Chinese banquet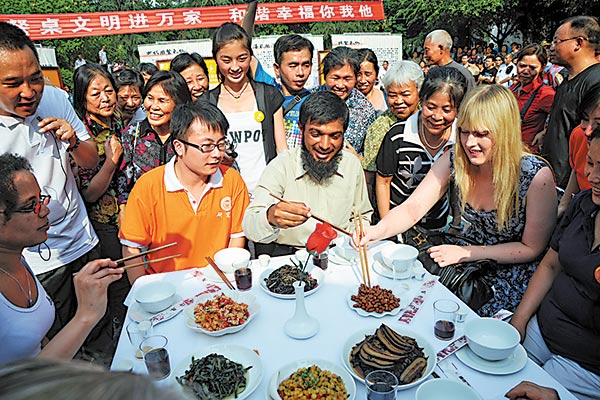 A lesson in Chinese dining etiquette and the use of chopsticks in Chongqing.[Photo provided to China Daily]
Like many foreign businesspeople in China, John Bruijnooge knows there is much more to a Chinese banquet than just sitting down for a meal.
"There are a lot of unwritten rules, many I don't know about," says the Dutch executive, who regularly attends dinners with government officials and corporate executives around China.
"I want to know how to behave so I can improve my relationships," he says. "I'd really regret it if I made a big mistake and damaged a relationship."
To prevent that happening, Bruijnooge paid 2,500 yuan ($410) in May to attend a one-day course at Institute Sarita, a private finishing school in Beijing.
Founder and principal Sara Jane Ho says dozens of Western executives have turned to her school's etiquette classes to learn the art of surviving a Chinese business banquet.
Of all the customs, she says, "the way people toast each other is definitely the most confusing and yet intriguing for Westerners".
In the West, people tend to stay seated during a business dinner, often because the seating has been arranged so the "right people" will have the chance to converse, Ho says. But in China, as soon as the first dishes arrive, people stand up, take a drink in hand and start to toast other guests while walking around the room.
"It's very disconcerting for foreigners," she says.
"They're not sure if they should be doing the same thing, who they should toast, when they should toast, and what they should say, or whether they should drink seated or standing up. It's where foreigners feel most uncomfortable.
"Chinese businesspeople are nervous about Western business lunches, but Westerners are equally nervous about Chinese business banquets."
Ho founded Institute Sarita in 2013. A former student of Institut Villa Pierrefeu, a finishing school in Switzerland, as well as Harvard Business School, she speaks five languages and has lived in as many countries.
The original aim of the school, she says, was to offer courses to the Chinese elite on international etiquette and protocol such as Western table manners, business etiquette and what clothes to wear.
The idea of advising foreigners on Chinese dining customs came up two years ago, when a senior executive at Cisco Systems asked for etiquette training.