Depp's wife faces jail, fines for smuggling dogs into Australia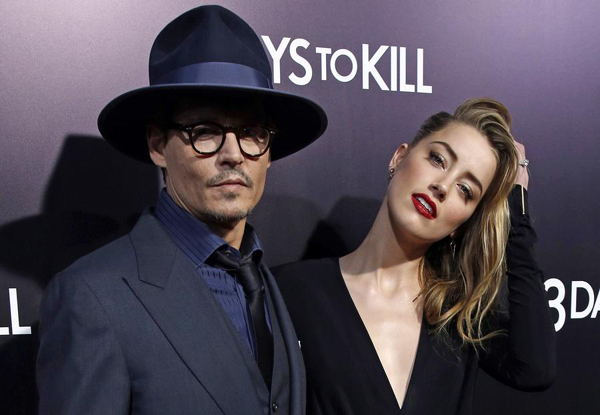 Cast member Amber Heard and her fiance, actorJohnny Depp, pose at thepremiereof "3 Days to Kill" in Los Angeles, California, in this file photo taken February 12, 2014. [Photo/Agencies]
Hollywood actor Johhny Depp's wife Amanda Heard faces charges in Australia for breaching biosecurity laws which could bring a 10 year jail sentence and a 100,000 Australian dollar ($74,000) fine for smuggling their pet dogs into the country.
The Yorkshire terriers Pistol and Boo made widespread international headlines when it was discovered they had been smuggled into the country on a private jet by Heard who was visiting Depp on the set of the latest Pirates of the Caribbean film on Australia's Gold Coast.
Agricultural minister Barnaby Joyce threatened to have the dogs put down unless they were immediately taken back to the United States.
"They should bugger off back to America," he said at the time.
The story made Australia an international laughing stock for its stance but the country takes its quarantine laws very seriously.
But the issue was suddenly back on Thursday when it was widely reported actress Heard has been charged with two counts of a biosecurity breach and has been ordered to face a Queensland court in September.
The Commonwealth Director of Public Prosecutions issued a summons against Heard.
Penalties include fines of up to 100,000 Australian dollars or up to 10 years imprisonment.
On Thursday it was reported Joyce again took an aggressive stance against Heard, saying it didn't matter she was a star with a big-star husband.
"I'm always pleased with the legal process - we are all equal before the law," Joyce told an interviewer.
Related:
Johnny Depp's pet dogs may be killed by Australian authorities