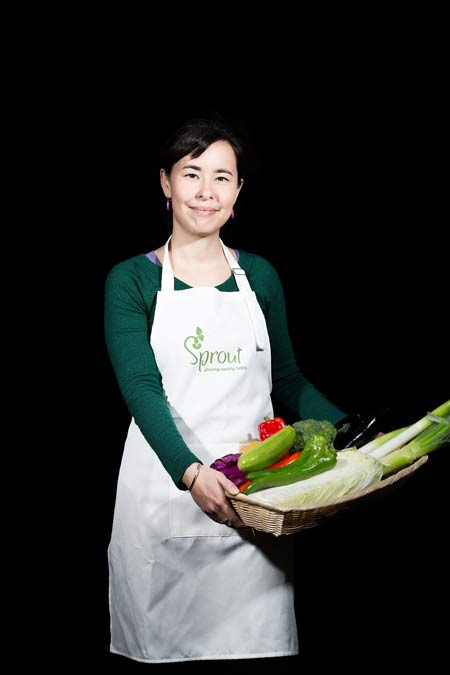 Kimberly Ashton, Chinese-Australian co-founder and owner of the Sprout Lifestyle Cafe in Shanghai.
The "energy balls" and "super-food mocha" from Sprout Lifestyle Cafe in Shanghai have won a place in the hearts of patrons of the city's cafes and food boutiques. But for Kimberly Ashton, the co-founder and owner of the cafe, the snack and beverage are just sweet and aromatic bait to get diners hooked on a lifelong agenda of eating food that is both enjoyable and healthy.
The energy balls, arguably the healthiest dessert in town, use all natural ingredients including nuts, goji berries, Medjool dates and raw cacao, and are free of any refined sugar or artificial sweetener. The result is to satisfy your sweet tooth and appease your conscience, even after a mouthful of the ping-pong-ball-sized treat.
The super-food mocha blends black coffee with coconut oil and raw chocolate powder, with optional coconut sugar and nut milk as a replacement for refined sugar and conventional dairy.
"My heart is more outside the kitchen and in teaching," says Ashton, joking that her two-floor cafe, tucked away in a backstreet of the city's most bustling shopping area, Huaihai Road, sounds like a secret business with a hidden agenda, say, laundering money.
In fact, what the Chinese-Australian tries to launder is perhaps people's ideas about eating.
"For me, the biggest appeal of my cafe is healthy food. It's not like our food is not tasty, but it's definitely not as alluring as hotpot, or a hotdog."
Sprout Lifestyle, which Ashton and a Chinese business partner opened in 2013, has three parts: a natural food store, a wholesome cafe and a workshop organizing cooking and healthy-living classes and events.
In April the duo relocated their flagship store to the nearby Huaihai Road to reach a larger clientele.
The menu is rather simple, with four salads, four hot dishes and a selection of snacks and drink choices. Apart from the promise of "no MSG, no chemicals and no preservatives", as many restaurants and cafes in Shanghai also vow, it also claims to make all the sauces and dressings from scratch as much as possible in the kitchen.
The green curry chicken, for example, uses homemade green curry with fresh coriander, herbs and spices instead of instant pastes. The result is a fragrant and flavorful creamy sauce that you want to bathe a whole pot of rice in before consuming every grain of rice and every drop of sauce.
"We don't have to compromise on flavors in order to eat healthy," Ashton says, "For me, the store and cafe are the tools for me to educate people on healthy food and allow them to experience and taste more."
Ashton says she has trained herself to be able to taste things like MSG within five seconds.
The first task is to cleanse the taste buds, which Ashton thinks have been heavily spoiled by artificial flavorings and addictives.
Two years ago she initiated a one-month no-sugar challenge program. The annual rehab-like program helps people get rid of sweets, refined and white sugar week by week. For the last week, even fruits are removed from the daily diet. (People who sign up for the program pay 500 yuan or so and visit the cafe weekly for menus and suggestions for the next week, as well as for a cheering session from "rehab mates".)
"It's just for one week, and only to change the taste buds," Ashton says, "Fruit is healthy."
Although there is no way of checking if someone is cheating during the program, Ashton says most people have managed to get through it. At the end, many look back on their overdosing of sugar in astonishment.
"I don't want to change people. I just want to be there if they are ready to be healthier, or to inspire and support them," she says, adding that her craving for food is as inborn and passionate as for food knowledge.
Born to a Hong Kong mother and a British father, she first came to China as an exchange student at Zhejiang University in Hangzhou to learn Chinese.
Later, living in Australia but eager to use her Chinese in a native environment, she returned to Shanghai 12 years ago and worked in marketing and business development for an interior design company.
Six years ago, she did a 10-week course on Chinese traditional medicine, which set her on a trajectory for the health and wellness area.
"The most appealing part of TCM for me is the food therapy, which helps me realize the power of food on one's body," Ashton says.
Later, she received her training at the Institute of Integrative Nutrition in New York.
But she says the most "life-changing" thing for her was studying macrobiotics, which she sees as promoting longevity.
"I guess I just find my place with food. For me it's very logical. If you eat this, this will happen. That really motivates me."
xujunqian@chinadaily.com.cn
If you go
Sprout Lifestyle
10 am-7 pm, daily.388 Shaanxi Road South, Xuhui district, Shanghai.
136-7150-7599