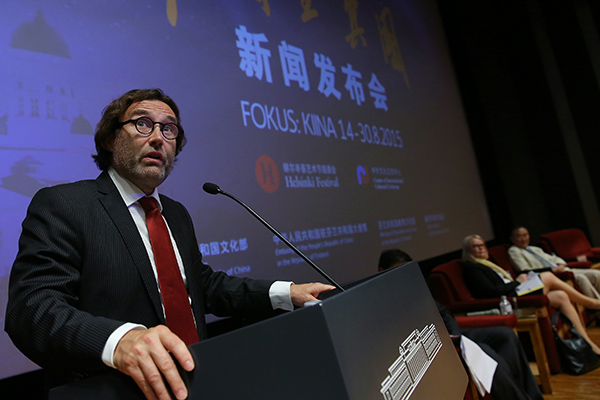 Erik Söderblom, director of the Helsinki Festival. [Photo by Wang Shen/Xinhua]
In Finland, there's an old saying - If you dig deep enough, you'll end up in China. This August, these two countries - located far away and once seemingly totally strange to each other, are coming together to hold an art festival in Helsinki.
"This is the first time in the 40 years' history of Helsinki Festival to have one third of its programs coming from a particular country," said Erik Söderblom, director of the festival.
According to Erik, the Helsinki Festival will launch a Focus China project, during which 20 programs from China will be presented from August 14 to August 31, and more than 400 actors are expected to participate in the event.
"The Focus China project will be the widest showcase of Chinese art and culture ever shown in the Nordic countries, and one of the biggest in Europe during the last decade," Erik said.
Themed "Genuine China: Linking Past and Future", the performances cover 13 categories, ranging from movie to ballet, visual arts to Chinese intangible cultural heritages.
"We present classical Chinese music as well as contemporary compositions of the most interesting Chinese composers of today. We present Kunju opera hand in hand with modern Chinese dance, we present the traditions of Chinese cooking alongside an exhibition of modern Chinese design," Erik said.