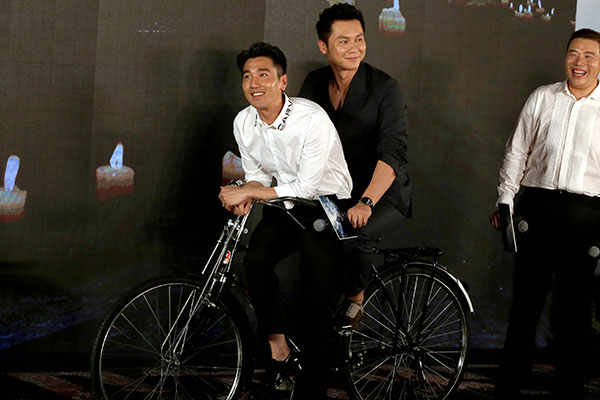 Mark Zhao and Li Chen(right). [Photo by Jiang Dong/ For China Daily]
An upcoming fantasy movie, based on one of the country's most popular tomb-raider novels, will hit theaters during the National Day holiday.
Ghost Blows Out: The Nine-Story Demon Tower, inspired by the best-selling novel Gui Chui Deng, or Ghost Blows Out, unveiled its storyline at a media event on Tuesday.
"I've longtime been one of the book's fans. Since I took the directorial job, I tried to make friends with some tomb raiders," says Lu Chuan, the movie's director, who has won international attention since the 2004 crime thriller Kekexili: Mountain Patrol.
In an attempt to reprise the gruesome, thrilling spectacles, the crew has stayed more than one month in remote areas of Xinjiang Uygur autonomous region and Gansu province, says Lu.
Noting that his tale revolves around fighting against monsters, Lu likens the protagonist role to Lara Croft (Angelina Jolie) in the action film franchise Tomb Raider.
He also reveals the movie wants to convey humans' endless exploration of unknown civilizations.
With a high-profile cast, the movie stars Taiwan actor Mark Zhao and Chinese mainland actors Li Chen and Li Guangjie.
Originally published in 2007, the eight-volume novel Gui Chui Deng has sold more than 1 million copies and won a huge fan base.
Adaptation rights for the first four volumes were sold to Wanda, and the other four took by LeVision Pictures. Lu's version is produced by LeVision.
Related:
Crowdfunding tastes blood in movie market