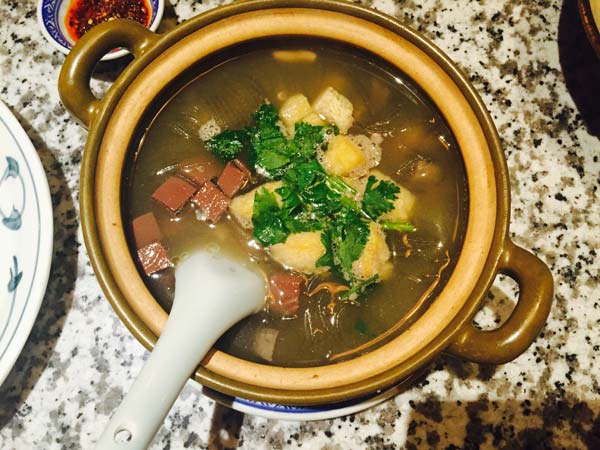 Duck-blood tofu with vermicelli soup, a signature dish of Nanjing-style cuisine. Liu Zhihua / China Daily
Diners hoping to have a glimpse into old times in Nanjing should visit a new restaurant in the Wangfujing area of Beijing. Nanjing Impressions, a restaurant chain with outlets in Beijing, Shanghai, Tianjin and Nanjing, has recently opened a branch there to emphasize its culinary origin and cultural legacy.
The chain is generally considered to specialize in Huaiyang cuisine, one of the four major cuisines in China that is characterized by light and never-spicy flavors and meticulous ways of cutting and heating the ingredients. The food is actually of Nanjing style, a sub-category of Huaiyang cuisine.
Literally meaning "south capital", Nanjing is the capital of Jiangsu province, and it served as the national capital for six ancient dynasties, with the earliest dating back to one of the Three Kingdoms (AD 220-280). Its prominence in politics, economics and culture has boosted the development of Nanjing-style cuisine since ancient times; when the city was the political heart of the Kuomintang administration before 1949, colloquially known as "Minguo", the city's style of food reached its peak.
The new branch is themed after "stories of Minguo", and during a recent visit, I felt it embraces that era's style in every way, from its decor to the menu and service.
Approaching the restaurant, I was met by two smiling middle-aged men, who were dressed in long robes like those wealthy men usually wore in the Minguo period. They even invited me to try the rickshaw rides nearby.
Upon entering the restaurant, it was as if I had come into a busy street of the old Nanjing as shown in the movies. The restaurant is narrow and long. Its walls and floor are built with vintage-looking gray bricks, and alongside the walls there are small, half-open chambers resembling stores from the 1930s, with old-fashioned names carved on wooden plaques or bricks on top.
Most of the chambers are private dining rooms; some display and sell snacks and rice wine, while the rest include cashier counters and replicas of groceries, banks and jewelry shops of the bygone era.
Wooden tables and stools are arrayed neatly, and in between are green trees that delight what otherwise would be a gloomy interior. Popular songs from the era of the Republic of China float in the air, with waiters and waitresses in 1930s-style clothing.
Printed vertically as in old times using antique paper, the menu has pictures of the famous beauties of the Minguo period, and dishes that are associated with famous people of the time, apart from regular dishes served in the restaurant.
On hearing the name "the young marshal's jars of delicious meat", perhaps most Chinese will think of Marshal Zhang Xueliang (1901-2001), the Chinese officer who took Chiang Kai-shek hostage to press him to join the fight against the invading Japanese army.
The dish is said to be Zhang's favorite, and used to appear at every banquet he organized.
The version I had the other day was a generous tribute to Zhang's memory. Small blocks of pork, eggs, ham, mushrooms, bamboo shoots, and shrimps are braised for hours in soup seasoned with ginger, pepper, stock, soy sauce, bean flour, rice wine and sugar.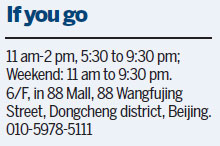 Although the salty broth was smooth and flavorful, the pork was the essence.
Every piece of the meat, whether fat or lean, had absorbed the flavors of other ingredients to create a distinctively fresh taste, with a hint of sweetness.
Usually I don't eat fat meat because it is greasy, but the fat part of this dish just melted in my mouth, while the lean meat was quite juicy and soft.
Nanjing juhua nao, literally "Nanjing chrysanthemum brain", sounded to me like a strange meat dish, or something made of tofu. Surprisingly, it is a cold vegetable salad made with juhua nao, an edible wild plant formally known as Chrysanthemum nankingense, which is common in Nanjing but rare in North China. The salad had a distinct chrysanthemum aroma, and tasted slightly bitter.
The restaurant also provides other signature Nanjing-styled dishes, such as duck-blood tofu with vermicelli soup, Jinling stewed eel, and - now in season - crawfish cooked with rice wine.
liuzhihua@chinadaily.com.cn