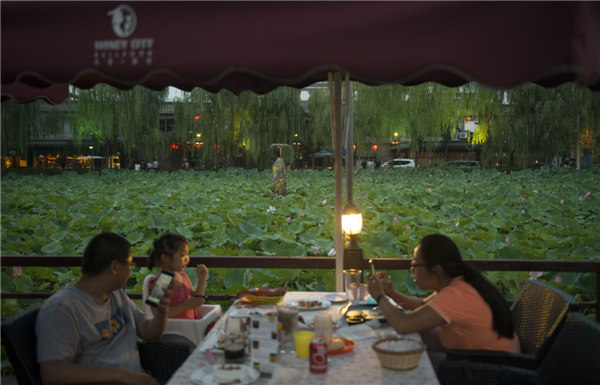 An outdoor deck stretches along small lake full of lotus, creating a picnic-like ambience. Bruno Maestrini/China Daily
Perched on a lotus lake in Beijing's north, Windy City Ballroom serves up generous plates of American comfort food. Mike Peters tucks in.
"They are a rich dark brown, tangy with sauce and falling-off-the-bone tender. Wood smoke is palpable around the plate," chef Dustin Merrett says of his meaty signature ribs.
"They are rubbed with our own spice mix and smoked with cherry and peach wood for two hours. Then we douse them with an American beer blend, wrap them up in tinfoil and throw them back in the smoker at a lower temperature for approximately another two hours.
"Before they're served, they are reheated via the sous vide method (in vacuum-sealed bags) and then slathered in barbecue sauce - and broiled until the sauce bubbles."
The menu at Windy City Ballroom, home of American comfort food, Chicago-style, is huge. But today our dinnertime visit is all about ribs: The Tuesday special is a whole rack of 12 ribs for just 358 yuan ($58). Be still my heart.
My Chinese roommate is vaguely shocked.