Quanjude's headline duck dish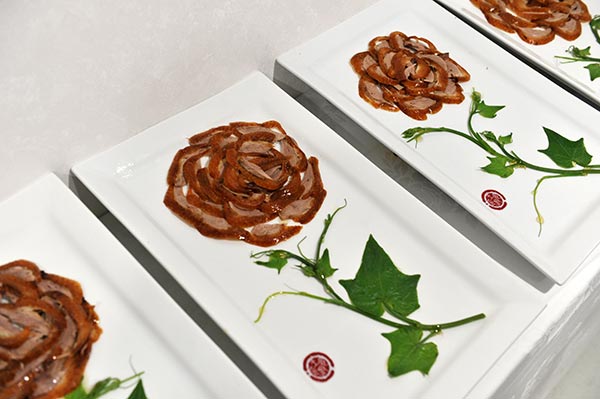 "Peony duck" of Quanjude restaurant. [Photo/chinadaily.com.cn]
Visitors to Beijing are unlikely to miss the Quanjude Restaurant that's famous for its trademark dish — Peking roast duck.
The restaurant chain updated its menu earlier this month to showcase its long-standing culinary heritage since the first branch opened in 1864.
The latest menu features Quanjude's "peony duck", which is a roast duck presented like a peony flower in full blossom — the delicately sliced breast meat is layered to give the impression of petals, while boiled towel gourd parts make up the green stalk and leaves.
The dish was first served at a State banquet during the Asia-Pacific Economic Cooperation summit last November in Beijing, where leaders of more than 20 member economies were present. The Quanjude-made dish has since been served to customers at all branches of the restaurant in Beijing, according to Sun Zhongmin, director for the group's innovation center.
The restaurant has also launched an individual summer special menu of 11 new dishes consisting of both cold and hot items, soups, dumplings and desserts.
Related:
Muslim food festival in Beijing