Young designer inspired by his powerful mother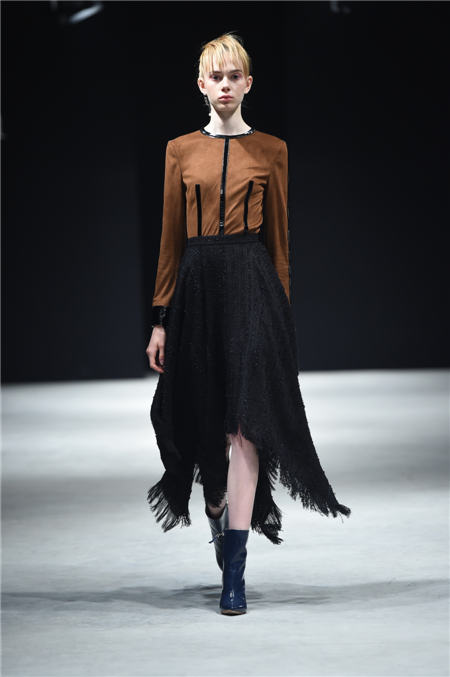 A model shows off Wen Haotian's 2015 autumn/winter collection, themed "A lifetime beauty". Photos provided to China Daily
Wen Haotian looks like many of his peers born in the 1990s: nerdy-chic glasses, white T-shirt, shorts and a backpack. However, the 23-year-old has an entire office of his own and a 20-person team working for him.
One of the most notable designers of his generation, Wen showed his 2015 autumn/winter collection in Beijing this month.
Themed as "A lifetime beauty", the show featured cocktail dresses with irregular neckline cuts and asymmetrical hemlines. Wool, silk and linen remain Wen's favorite fabrics. Structured woolen coats are embroidered with lilies. Silk and cotton are patched with reflective fabric for an edgier look. Black, blue and brown are dotted with white, orange and pink for lightness.
As with his previous collections, Wen's latest look is inspired by the dynamic characteristics of modern, independent women.
"These women might have been a minority in the past, but not anymore," Wen tells China Daily. "They have a lot to present, apart from their strong looks."
Wen's muse has been his mother. His parents divorced when he was young, and he spent most of his time with his mother, an assertive career woman who motivated him to fight for his own dream. Now Wen says he designs for his mother and women like her.
"I design for women over 30. You can pick any piece from the collection and walk into any occasion without looking out of place."