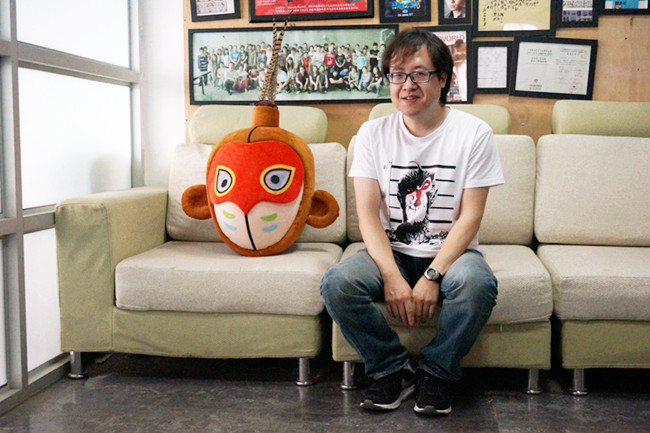 Tian Xiaopeng, director of the animated feature "Monkey King: The Hero is Back", gives an exclusive interview to chinadaily.com.cn. [Photo by Yu Xiaoou/chinadaily.com.cn]  
In recent weeks, Chinese animation fans have been stunned by the the new movie "Monkey King: Hero is Back", based on the legendary Ming Dynasty (1368-1644) novel Journey to the West.
Although the screening rate of this movie in Chinese cinemas is only 9.17 percent on average when it debuted, it quickly took China's social media by storm with its excellent reviews and attracted more people who flocked to cinemas to discover its charm.
According to box office data through July 29, it had raked in 705 million yuan (about $113.6 million), snatching the spot of the highest grossing animated film in Chinese cinemas, formerly held by "Kung Fu Panda 2".
The "monkey" not only captured the nation's attention with its high visual quality and sincerity, but also won praise from Andrew Mason, producer of Hollywood blockbuster "The Matrix", during the 2015 Cannes International Film Festival.
"There is no involvement of a Hollywood team? According to my understanding of the industry, the cost of such a film will not be less than $100 million," he said after watching the movie.
In fact, Tian Xiaopeng, the movie's director, and his team finished their work on a budget of only $10 million in eight years. In the exclusive interview with chinadaily.com.cn, he said that they couldn't afford the cost association with a Hollywood 3D animated film, so they had to find their own edge.
"We lack experience and mature technology. So the biggest difficulty for me is to compete with myself. At the beginning, almost for every single frame, we needed repeated modification and discussion. During the whole production, I'm struggling with the imperfections, trying to make everything better. We put in our time and mental and physical efforts to remedy the shortcomings of our technology," Tian said.
Related:
Easy Talk Special: Monkey King - Box office hero of Chinese animation