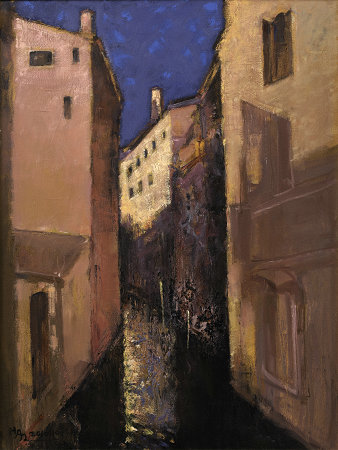 A painting by Huang Azhong. [Photo provided to chinadaily.com.cn]
"Reciprocal Plane" is a two artist exhibition at the ancient Daoist venue Dong Yue Art Museum, opening on August 8th 2015 at 3 pm.
Renowned Shanghai artist Huang Azhong will show his oil paintings in this joint exhibition. He is a Professor of Fine Arts at Shanghai University and he has also published numerous essays and poetry.
"Tong yi ping mian" literally means "Same plane". The show will take a look at two very different backgrounds coming together to have a conversation on some similar themes and interests.
Artist Niamh Cunningham will be showing the first section of the Ginko Series which are based in an area in Olympic Park.
As part of this series, three large paintings which are commissions for Huaxin Hospital, the First hospital affiliated with Tsinghua University will be on display. Niamh Cunningham will also be showing a few small sugar painting works.
Exhibition venue : Dong Yue Art Museum, 99 Chao Wai Street, Beijing
Contact: 01065514148-828
Email: hxwhs@sina.cn
Dates: 9-22 August 2015
Opening Reception: 3 pm August 8th 2015- all are welcome