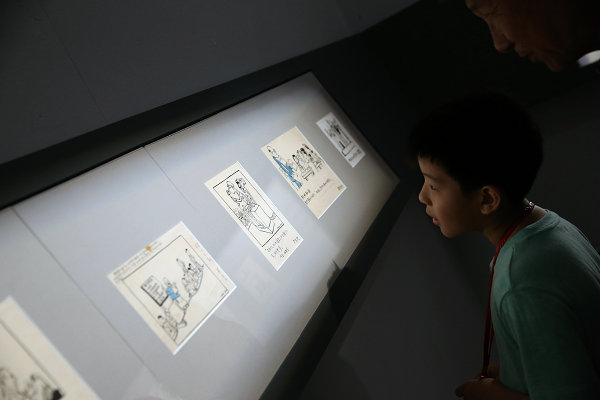 [Photo by Jiang Dong / China Daily]
Among his artworks, about 100 are presently displayed at the museum to commemorate the 100th anniversary of his birth and also as a tribute to his skills. Hua is remembered as a pioneer of political cartoon in China. His works also expose social issues with both style and insight.
But before he became famous as a cartoonist, Hua had tried his hand in painting — with limited success.
"When I painted still life, I felt rather frustrated because I could never execute a good piece," he said. "I realized that I preferred a carefree and sketchy style, instead of painting exactly what an object looks like. I then turned to caricature, which suits my personality quite well."
Hua drew inspiration from ordinary Chinese, the artist said.
"Caricatures these days have strong Western influence. ... I seek a Chinese touch, ... I draw what my people can understand."
The exhibition runs through Aug 7.