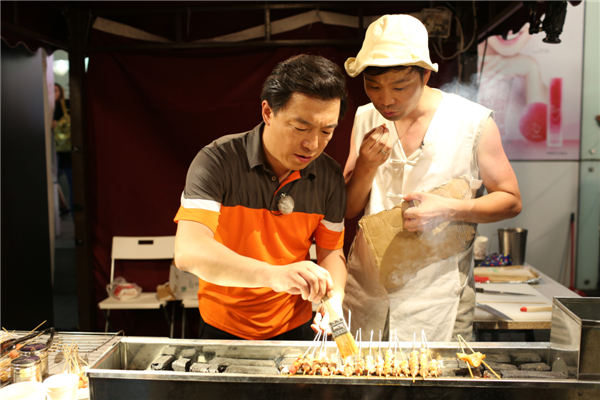 Chinese Alist actor Huang Bo (left) appears in a new TV reality show Go Fighting as a street vendor selling shashlik. Provided To China Daily
Following film stars as they play games and begin adventures in tourism hot spots overseas is nothing new for Chinese TV audiences. But how about letting them drop their haloes to experience the pressures of life as ordinary folks?
When Huang Bo, the actor whose films earned nearly 5 billion yuan ($810 million) last year in China, suddenly finds himself on a crowded subway train to deliver fast food - or working as a street vendor selling shashlik - he brings something refreshing not only to TV viewers but also to himself.
"Though I mostly play ordinary people in films, frankly speaking, I am not very clear what their lives are like now," the 41-year-old actor says.
"An actor cannot only rely on imagination, and I have reasons to look back."
Since Go Fighting, a reality show without expensive gear and flamboyant outdoor scenes, premiered in June on Shanghai-based Dragon TV, people have found "other sides" of Huang: He is a talented singer, a skillful swimmer and a good fisherman.
The show invites six A-list Chinese actors of different age groups to complete missions in a loosely designed storyline.
Episodes are released on Sundays.
"We allow the participants to use their experiences to freely exert themselves," says director Yan Min. "They will not feel any celebrity privilege."
In a recent episode, when the actors navigate a leaking rubber dinghy while struggling to stay afloat at sea, the perils they face appear more convincing than dangers their characters face in films.
However, each thrilling filmlike story is actually based on complicated post-production work. Only 1 out of every 400 elements shot is used in the final release, to create a tense atmosphere.
"Through them, we want to reflect the pressure people face and different ways of handling it," Yan explains.
"Like in real life, each choice is closely connected to the next. It creates the atmosphere of a thriller film," adds Ren Jing, a producer of the show.
"Stars show their ugly sides in some programs to briefly win laughs. But brainstorms will be more intriguing in the longer term. Reality shows can be something more than fast food."
Audience appreciation seems to have paid the bills for this experiment. On Douban.com, the country's film and TV critic website, Go Fighting got 8.6 points of 10, which is among the site's highest ratings for domestic TV reality shows broadcast this year.
"Though Go Fighting is still a celebrity reality show, which is mainstream genre in China, it incorporates more social significance," says Zhang Yiwu, a cultural commentator and Chinese-language professor at Peking University.
Yin Hong, a communications professor at Tsinghua University, says domestic outdoor reality shows need a breakthrough like this.
"When moving a program from an enclosed space to city streets via complicated production skills, it probably pushes this type of show to its extremes."