Taming the green beast-and the baijiu beast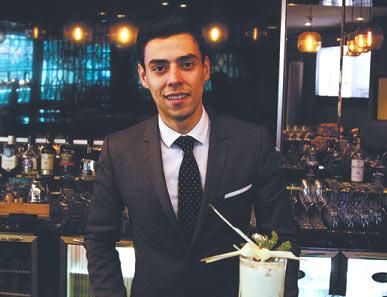 Sami Mersel with a milky cocktail.
In the funny way the world works, I was drinking absinthe every night during a recent trip to Switzerland, and was immediately invited to sip it again when I return to Beijing.
The greenish liquor was illegal in my youth-popularly associated with all sorts of evils from madness to incest.
"It won't make you hallucinate and it won't make you chase farm animals," the bartender at Geneva's Swissotel Metropole told us with a chuckle, as he poured "the green fairy" into a crystal glass.
Sami Mersel, hosting a cocktail-making class in Beijing a week later, is equally reassuring.
"When a grape blight killed off the vineyards in Europe in the late 19th century, people started drinking more spirits instead of wine," says Mersel, the beverage guru for Hotel Eclat at Beijing's swank Parkview Green complex. When the wineries started coming back, they spread these rumors so people would drink wine again instead." Conservatives attacked absinthe because it was identified with a bohemian lifestyle. (The horror: Artists drank it!)
By 1915, absinthe was illegal in the United States and much of Europe, including Switzerland (where it originated in Neuchatel more than 200 years ago) and wine-loving France. How did that rumor spread so well before the Internet?
In any event, recent studies concluded that the green fairy's magic has been exaggerated, and absinthe has been making a global comeback since the 1990s.
We found some fun in "the green beast", a classic absinthe cocktail that Mersel was teaching about a dozen bartender wannabes how to make.
"It was created by a famous French bartender that now runs the official Pernod absinthe bar in Ibiza," says Mersel, unintentionally reviving the bohemian mystique. "It is a really simple drink to make and perfect for warm weather."
Want to try?
It's best made with a metal cocktail shaker-and a little showmanship-but results are good with a simple spoon, applied with enthusiasm.
The Green Beast
30 ml Pernod absinthe
20 ml lemon juice
20 ml sugar syrup
Soda water to top off
Cucumber for garnish
Fill a highball glass with cubed ice, pour all the ingredients into it and add club soda to fill glass. Stir well and add a cucumber slice or two to make it pretty.