Spice island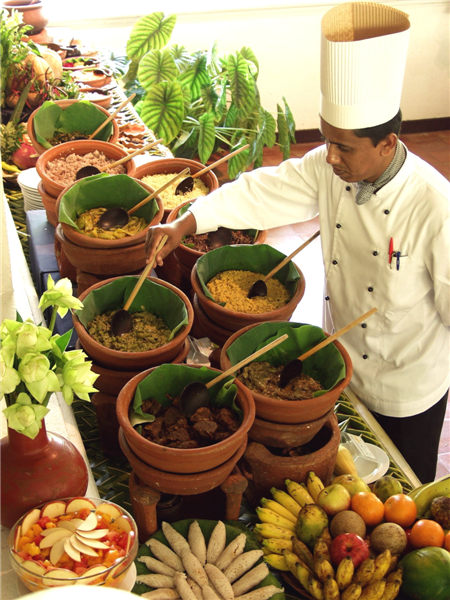 Veteran chef Dammika De Silva from Sri Lanka at the ongoing Sri Lanka Food Festival at Minzu Hotel's Mill Cafe in Beijing. The festival aims to tickle diners' curiosity and appetites for the coastal country's fare. Photos provided to China Daily
Indigenous plants of Sri Lanka have attracted traders-and food lovers-for centuries. Liu Zhihua sits down at a Beijing food festival to sample an Asian cuisine that's not well-known in China.
Separated by land and ocean, Sri Lanka is far away from China, and it's not easy to find a restaurant dedicated to that country's cuisine in any Chinese city.
But one of Sri Lanka's best-known chefs is now at Beijing's Minzu Hotel for a two-week stint to tickle diners' curiosity and appetites for the coastal country's fare.
Dammika De Silva, a 22-year kitchen veteran who has authored a popular cookbook on Sri Lanka cuisine in Japanese, is presenting a special menu for the ongoing Sri Lanka Food Festival at the hotel's Mill Cafe.
Continuing through Aug 14, the food festival was co-organized by the embassy of Sri Lanka in China and the Beijing People's Association for Friendship with Foreign Countries.
The festival's opening ceremony on Friday evening featured cultural performances and distinctive dishes that still linger in my memory.
Spices including turmeric, cinnamon, pepper, clove and cardamom are lavishly used, particularly in curries.
"Sri Lanka is the country of spices, and we are the people of spices," declares Manick Rodrigo, managing director of Barberyn Ayurveda Resorts, where the chef currently works.
Nearly 80 percent of cinnamon on the global market is from Sri Lanka, he says.
The fact that so many spices are native to the tropical Southeast Asian country has made it a trading magnet since the days of the Maritime Silk Road.
Spices make food aromatic and flavorful, and apart from people avoiding strongly spiced food for religious reasons, many people in Sri Lanka like strong-flavored food, he adds.