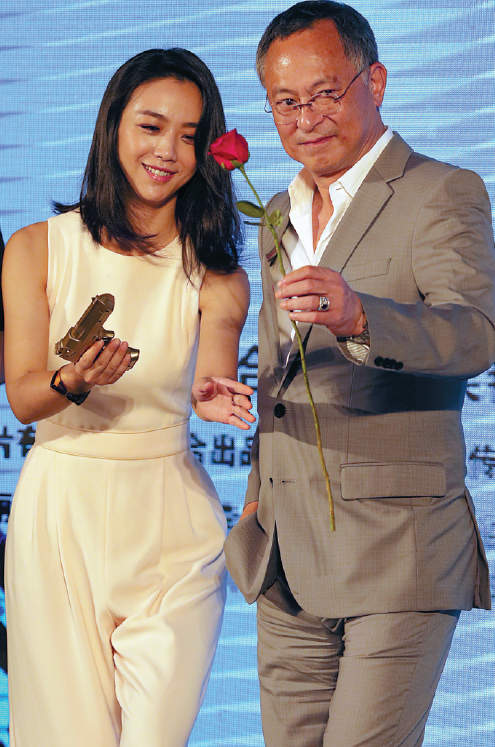 Hong Kong action thriller director Johnnie To with actress Tang Wei at a promotional event for his new film that has shifted from the genre of gunfights to the office life of white-collar workers in the country. Jiang Dong/China Daily
Hong Kong action filmmaker Johnnie To swaps gunfights for gossip, chase scenes for commutes and body counts for deadlines with Office. Xu Fan reports.
Johnnie To is legendary for shoot-'em-up action thrillers, but the biggest explosion he's bringing to Hong Kong filmmaking is the news that his most expensive movie ever will be about-wait for it-office workers.
That's right.
Not cops and robbers, but bosses and employees.
No guns. No bombs. No fistfights.
Instead, expect e-mails, gossip and deadlines.
Crushing commutes instead of high-speed chases.
But the 60-year-old director of the underworld Election franchise and cops-and-robbers flick Drug War (the best-grossing film from the genre in the mainland market) explains this doesn't mean Office won't have action.
"I've shot many gunfights and mafia crime scenes," he says.
"It's time to try something new. Offices are battlefields, but without actual fires. People hoping to advance are entangled in schemes, traps and betrayals."
To is tapping a topic that speaks to mainland urbanites' heart yet the market has paid it little mind.
It's arguably a bold move for an international festival favorite. (He's often invited as a nominee or jury member.)
After directing nearly 60 titles in 35 years, To wants to step outside his comfort zone.
He doesn't believe this shift presents a risk to the 100-million-yuan film's investors.
"All I do is my best to not fail the boss," he says in his signature suit, lighting a cigar.