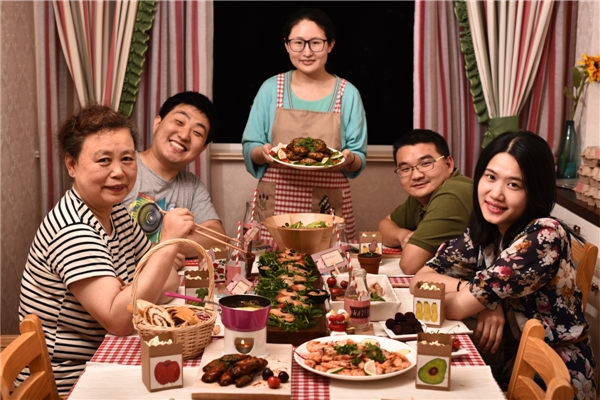 Diners, previously unknown to each other, gather for a home-cooked dinner in Shanghai. Every week on Feng Zheng's website Youfanapp, hosts in Beijing and Shanghai provide meals at their homes to customers. Photo provided to China Daily
An online platform for diners connects home cooks with different groups of strangers, eager to taste new dishes and make friends, Deng Zhangyu reports.
Yan Chengying rose at 4 am on a Saturday in July and kept herself busy through the day preparing a 14-dish dinner-not for her family or friends, but for eight strangers who had already paid for the food.
When all the diners-also previously unknown to each other-arrived at 6 pm, the meal started with a brief self-introduction by each attendee. Then they enjoyed the food, while discussing topics ranging from how to cook dishes served by Yan to where the best diving spots are. Yan, 61, joined the conversation with her daughter after finishing up in the kitchen.
Several weeks ago, Yan joined an online platform that serves home-cooked meals, and offered to host a Huaiyang-style cuisine once a week for strangers at her house in Beijing. She charges 168 yuan ($27) per person for the big array of dishes featuring local cooking styles of East China's Jiangsu province.
"I love cooking. It's a perfect way to share my dishes with people who appreciate them. It also makes me happy whey they say they feel like they are eating at their own homes," says Yan, who was born in Nanjing, the capital city of Jiangsu, and lives with her daughter in Beijing.
Yan's daughter Yan Weiqi, an architect, encouraged her mother to go ahead with the plan as it was a good way for her family and their guests from different walks of life to make friends.
"At one dinner a week, I get to know eight new people; in a month, 32; in a year, several hundred. That's an amazing speed to expand my circle of friends," says Yan Weiqi.
Woyoufan, the online platform her mother joined, was established in January. Then there were few hosts, but now more than 100 people have registered, says the founder Feng Zheng.