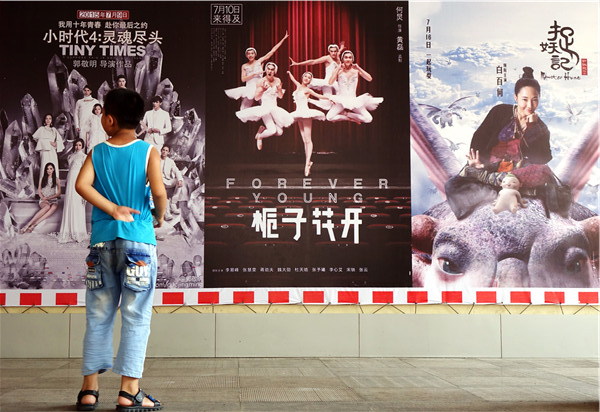 A boy stands in front of film posters at a cinema in Zhengzhou, Henan province. [Photo provided to China Daily]
July has been the highest-grossing month in China's box-office history.
And that's on the heels on several recently set records in the world's second-largest movie market.
A growing number of insiders hail the country's growing embrace of the Internet as the mine producing the industry's "golden time".
The box office brought in more than 5 billion yuan ($806 million) between July 1 and 28-the most in any single month in China's film history. The figure is just shy of the box office for all of 2009 (5.9 billion yuan).
Nearly 144 million tickets were sold in the country's 5,400 theaters in July.
This month has pushed the total for 2015 so far to 25.2 billion yuan. That's not far behind the total for all of last year-29.6 billion yuan, according to entertainment-industry research organization, Entgroup.
Homegrown titles are leading the charge-namely, Monster Hunt (1.5 billion yuan), Jian Bing Man (924 million yuan) and Monkey King: Hero Is Back (705 million yuan).
One of this year's best-picture Oscar nominees, The Imitation Game, has only brought in 22 million yuan since its July 21 release.