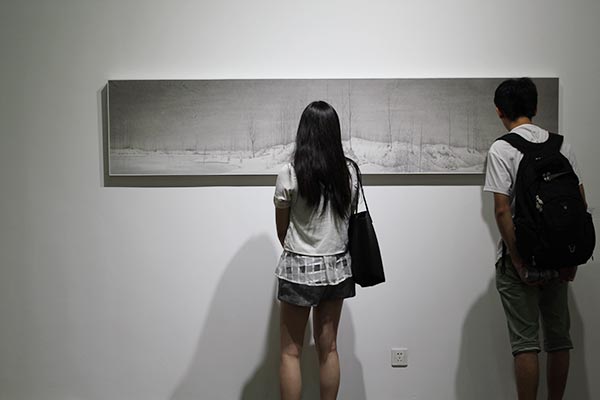 Artist Cheng Baozhong's ongoing exhibition is showcasing viewers tranquility and coolness. [Photo provided to chinadaily.com.cn]
Cheng Baozhong's current solo exhibition, titled Snow in Late July, promises viewers a feeling of tranquility and coolness amid the summer heat.
His dozen ink paintings on display mostly show snowy scenery and icy mountains, which are largely based on his childhood experiences and reflect a nostalgia for the past.
The snow-blanketed villages and forests in his works are reminiscent of Baiwa, a forest farm in Shandong province where Cheng spent childhood and which he views as a spiritual homeland. And his meticulous portrayal of mountains symbolizes the profound and deep meanings of life.
In the process of seeking peace and simplicity under his brush, Cheng tries to build a stable system of mental support, so that he can shield himself from the disordered, chaotic world.
"Maybe one day eventually, you will see the true self, and understand what your heart really wants," he says.
The exhibition runs until Aug 10, at the Mingtai Space inside Beijing's Universal Creative Park.
Related:
Artist converts his mouth feel to paintings