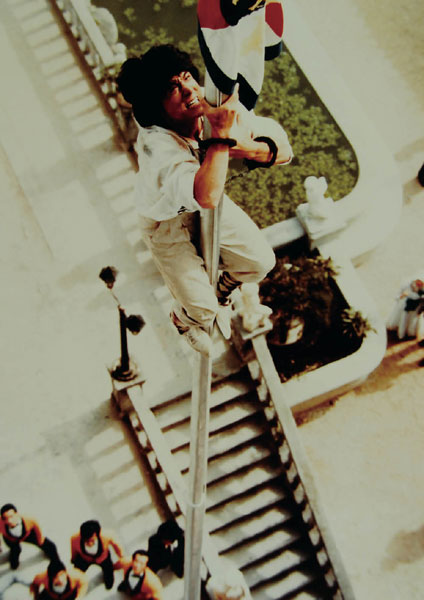 A photo in the book shows one of the many death-defying stunts Chan performed in his movies. [Photo provided to China Daily]
Although fate brought the two to meet again in Taiwan and Hong Kong, their different personalities finally set them apart.
"Maybe that's the best decision," writes Chan. "Because we have two very different personalities and both of us wouldn't compromise for the other. In other words, she was too good for me."
Chan was born in Hong Kong in 1954, where his father worked in the US consulate as a chef and his mother as a domestic helper. Chan was a playful child and failed school in his first grade. When he turned 7, his parents followed the diplomat to work in Australia, and left him alone to practice martial arts at the China Drama Academy in Hong Kong.
After 10 years of training, Chan started his movie career from the bottom-working as a stuntman and an extra on different sets, earning as little as HK$5 (64 cents) a day. His first relationship ended because of his humble job back then.
Growing up among poor people shaped his initial dislike of the wealthy. This attitude has also been reflected in his roles-a small, ordinary man with a kind heart.