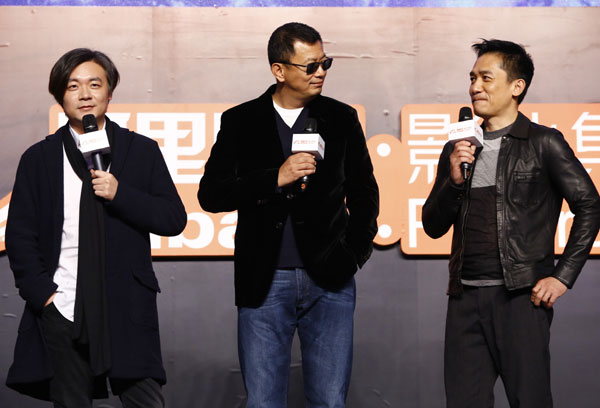 Zhang Jiajia (from left), Wong Kar-wai and Tony Leung Chiu-wai at the news conference. [Photo provided to China Daily]
Best-selling author Zhang Jiajia will direct a movie based on his novelette, The Ferryman, it was announced at a news conference in Beijing on Sunday.
The 35-year-old follows in the footsteps of two other young best-selling authors, Han Han and Guo Jingming, who made their directorial debuts last year.
The Ferryman is one of 33 novelettes Zhang has posted on his microblog since July 2013. The series, called Bedtime Stories, was retweeted over 1.5 million times and got about 400 million clicks.
The story, set in Jiangsu province's capital Nanjing, where Zhang went to college, depicts a lasting unrequited urban love.
Zhang says half of his stories are based on his own experiences, and the rest are those of his friends. He believes the film's sincerity will resonate among many people who share similar emotional entanglements.
He's also writing the screenplay for the upcoming film.
"I've changed the script more than 20 times but am still not satisfied," he says.
The original novelette has only about 4,000 characters. Zhang says he'll have to beef it up. But the bigger challenge is that the film will be a comedy. So the writer will need to more than touch up his story.
Last June, renowned Hong Kong art-house director Wong Kar-wai disclosed he'll adapt the short story for the big screen. Heartthrob star Tony Leung Chiu-wai will star in the movie.
But Wong, who won international fame for such highly stylized works as In the Mood for Love (2000), My Blueberry Nights (2007) and Academy Award-nominated The Grandmaster (2013), decided not to direct the film. He'll instead act as its executive producer.
"Zhang is the most suitable person to explore the subtle emotions hidden in his own story," Wong says, after revealing Zhang will be the director at the news conference.
"My job is to use my experience to help him fully express his feelings. Making films is like cooking. It takes a long time to simmer to make the best dishes.
"I feel I don't have enough time to present every delicious dish I like to audiences all by myself. I'd better off as a promoter."
No release date has been set for the film; nor has the cast been determined, other than Leung.
Some names have been mentioned as candidates for the lead actress, including Song Hye-kyo and Jun Ji-hyun from South Korea, and domestic A-lister Tang Wei. But those reports proved to be rumors.
When Leung says Wong persuaded him to join the cast before he saw the script, a journalist asks bluntly: "Were you disappointed when you finally found out Zhang will be the director instead of Wong?"
Zhang explains that, although The Ferryman is his movie, it will have Wong's fingerprints. Since he's an Internet sensation, Zhang has a powerful investor. The film is Alibaba Pictures' first major production.
"Just because we're a rich company doesn't mean we aren't prudent with our money," says Alibaba Pictures CEO Zhang Qiang.
"We're cautious when it comes to selecting works. The Ferryman will be Wong's first film set in today's mainland environment. We're here to participate in this crucial moment."