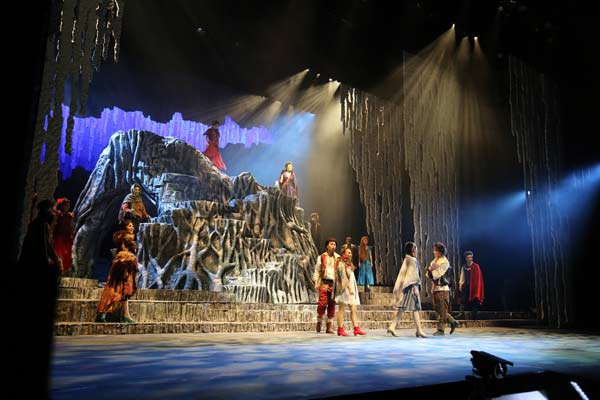 An ensemble cast of 16 actors recreate several Grimm brothers' fairy tales, adding a dark side that appeals to adults.
To make it a long-lasting endeavor, Ovation has opted for creating a troupe and hiring and training its own actors, a process it started in February. In China, most non-State-owned performing arts troupes would prefer to hire artists on a project basis, but in Li's opinion, qualified actors for musicals are in extremely short supply. "You can hire big-name actors for the major roles, but what we need the most is to raise the overall quality of the ensemble."
Ovation now has 20-plus actors in its roster, nine of whom appear in this production. The other seven members of the cast are ad-hoc hires. Early next year, it will present a brand-new musical, this one a self-creation titled Rock West Chamber, which will be a rock version of the classic Chinese love story. Li is shy about divulging details of this upcoming production, not even the name of its composer.
"There are many impediments that hinder the growth of musicals in China," says Li, who acted in Peking Operas, plays, movies and television dramas before discovering the wonders of the musical as a genre. "One is the misconception that the musical should be put on a pedestal, so elevated that ordinary people dare not venture into a house. The other is the prohibitive cost, that translate into high ticket prices and inhibit market needs." He notes that a show has to fill half the seats just to cover the rental fee, and some artists' pay is higher than their equivalents in Japan.
China may follow Japan and South Korea in developing its musical market, which means the current shows mainly serve the purpose of educating the public about the magic of musicals and creating a market from scratch. "It may be 50 years before China matures as a market for musicals and, meanwhile, few productions can recoup their investment," says Li.
The first steps for creating a market are: (1) import foreign tour productions such as Phantom of the Opera; (2) license foreign productions, such as Mama Mia and Cats in recent years; (3) license foreign musicals and create China's productions such as this production of Into the Woods; (4) create China's own musicals for its own market.
There'll be about 30 new musical productions for 2015, predicts Li. But he is not worried because he wants to be the best. "Next year, we'll hold a conference on musicals and we'll invite experts who have excelled in this art form in all the advanced countries," says Li. "If foreign artists create a Peking Opera production, the recognition of Chinese artists is paramount. Likewise, musical is a foreign art form that was introduced into China, so their recognition is vital to us."
Fortunately, James Lapine, writer of the book and director of the original Broadway production, made a special trip to China and, after watching one of the early shows, praised the Chinese artists and the production. Next year, Into the Woods will tour other Chinese cities. A detailed schedule is still in the works, but as Li reveals, the Beijing run is creating so much interest that some out-of-town presenters are booking big blocks of shows for their venues.