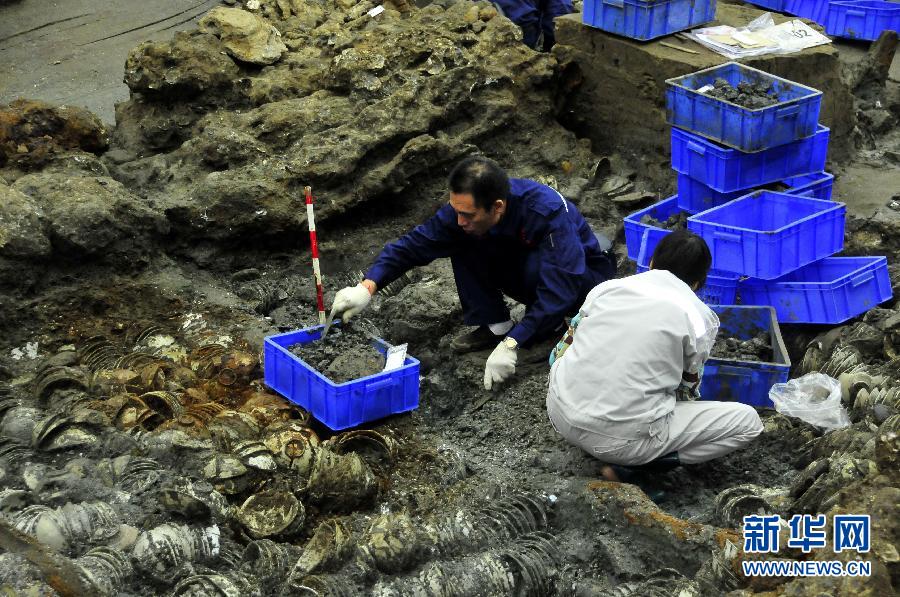 Archaeologists excavate the interior parts of the wrecked ship belonging to the Song Dynasty "Nanhai Number One" on Dec 2, 2014. [Photo/Xinhua]
Archeologists have started exploring the interiors of the ancient wrecked ship of Song Dynasty "Nanhai Number One".
The vessel, 30.4-meter-long and 9.8-meter-wide, was constructed during the Song Dynasty and sunk more than 800 years ago.
It is the oldest and the largest wrecked merchant vessel yet discovered, and also the best preserved.
The ship was found accidentally by the British Maritime Exploitation and Recover Company and Guangzhou Salvage Bureau in 1987. They were searching for another wrecked ship of East India Company, called "Rijnsburg", but they stumbled upon more than 200 cultural relics that were identified to be from Song Dynasty.
The salvage of "Nanhai Number One" did not begin until 2007 due to many technical difficulties, and then it was moved to Maritime Silk Road Museum of Guangdong, which was especially constructed for its perseveration.
At the end of 2013, the full-scale excavation of "Nanhai Number One" started, and so far 623 porcelain samples, 107 gold wares, 5,000 bronze coins, and many other cultural relics have been extracted from the wreck.