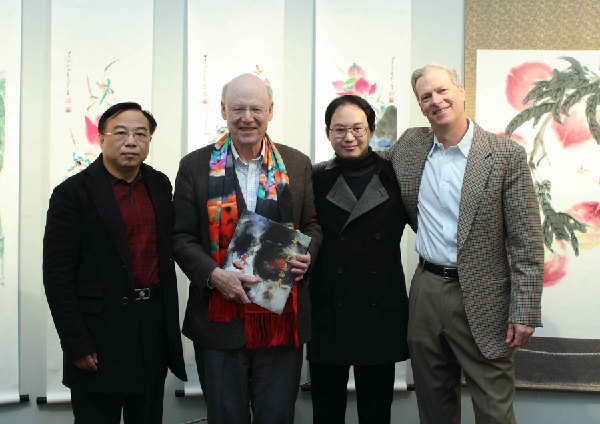 At the exhibition were, from left, artist Huang Yue, Steven C. Rockefeller, Huang Simi and Steven C. Rockefeller Jr. [Photo provided to chinadaily.com.cn]
Traditionally, Chinese artists have used ink painting to express the beauty of flowers and birds, but artist Huang Yue has carried that tradition on with a western style of oil painting.
Flower and bird ink painting, a traditional art form that's unique to China, originated during the Tang Dynasty (618-907). Since then, Chinese artists have expressed their emotions with gradations of mostly monochromatic strokes in ink, with scarce touches of color to accentuate the scene.
The manifestation differs greatly from those of Western oil paintings, where abundant colors and textures are used to create depth and abstractness.
Huang Yue's oil paintings of flowers and birds exist somewhere between the two. "My paintings are neither the traditional ink paintings of flowers and birds nor paintings of that under natural light in the West. It's somewhere in between. It's completely new, and innovation is the key for me," Huang said.
His personal exhibition, Huang Yue Nature's Divine Impressions, has been held in New York since Oct 25, 2014.
Huang started fusing Chinese and Western styles of painting in 2000. As of today, nearly 20 of his pieces are a part of the Rockefeller family collection, a family known for their love of beautiful art. Steven C. Rockefeller Jr. and Kimberly K. Rockefeller both expressed their fondness for Huang's work.
"Huang Yue's oil paintings of flowers and birds are unique, no matter in China or in the world. With sensational colors, daring brushwork, and delicate themes, Huang combines all the elements into a rare piece of artwork with great charm," Steven C. Rockefeller Jr. said
More often than not, artists paint not just to capture the beauty of what they see, but use shapes and contours as metaphors to express their inner feelings and views of the world. So a flower, through an artist's eyes, is not just a flower. It can be the symbol of femininity, peace, optimism and beauty. Every stroke an artist paints is an expression of culture. When the message that lies behind is too deeply embedded in cultural traditions, audiences from other parts of the world may have difficulties understanding it.
"My paintings use flowers and birds to express a pleasant state of mind and a purified soul. In the pursuit of beauty in nature, I embodied them with the spirits and minds of human being," said Huang.