Actor Huang Haibo apologizes for sex scandal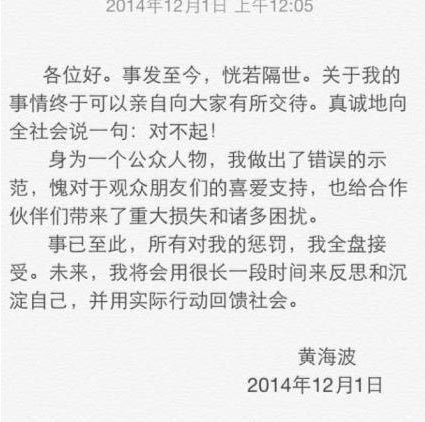 A screen capture of actor Huang Haibo's statement on his official Sina Weibo account. [Photo/Weibo]
Chinese actor Huang Haibo was detained in Beijing for buying sex on May 15. Huang admitted to his actions and spent six months behind bars.
Huang was released on Nov 30.
The tainted actor, who was once known as China's favorite son-in-law on screen, released a statement on his official Sina Weibo account and apologized for his faults.
Here is the manuscript.
"Hello.
I feel like a lot has gone by since the accident and now, I finally have a chance to speak on the matter to the public through my own words. I would like to sincerely say to the world: I'm sorry!
As a public figure, I have set a wrong example. I am unworthy of the love and support of the audience, and have caused great losses and troubles for my partners.
I accept all of the punishments towards me. I plan to take some time to reflect, and repay society through my actions.
Huang Haibo
Dec 1, 2014"
Related:
Questions about Huang Haibo not answered at SIFF