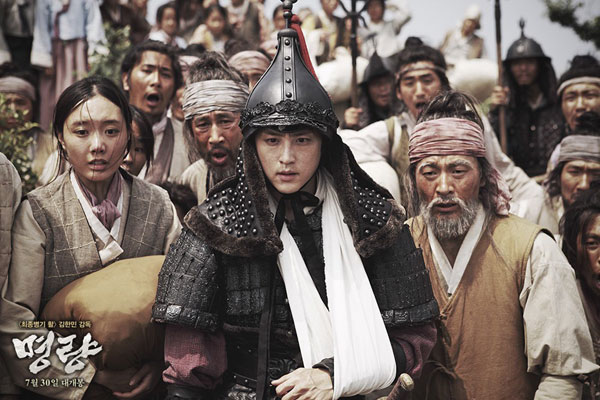 A poster for the South Korean war epic The Admiral: Roaring Currents; the film is likely to hit Chinese theaters on Dec 12.[Photo provided to China Daily]
The Admiral: Roaring Currents, a South Korean war epic that's likely to hit Chinese theaters on Dec 12, is an ambitious project aimed at making South Korean movies more appealing to Chinese moviegoers following a decade of slump in performance.
Set in then-unified Korea of 1597, the movie tells the story of a naval officer from the peninsula and his victory over an invading Japanese fleet of vessels. It became South Korea's biggest movie ever after its release in that country earlier this year.
The movie was originally meant to premiere in China on Nov 28, but the date was pushed further into the festival season that's considered a golden period for ticket sales, trade analysts say.
With Christmas, New Year and the Chinese Spring Festival celebrations lined up between this month and February, most big-budget productions are usually shown in China in the winter.
In two small screenings to industry people, critics and the media in Beijing last week, audience responses suggested that the movie would likely strike an emotional chord in China, a country that suffered Japanese aggression.
"The sea battle scenarios are very impressive, and the image quality is as good as some of the Hollywood blockbusters. It easily arouses audience admiration for the big hero, who rescues a country and its people by himself," says Tian Jinshuang, a veteran movie critic, who attended one of the screenings.