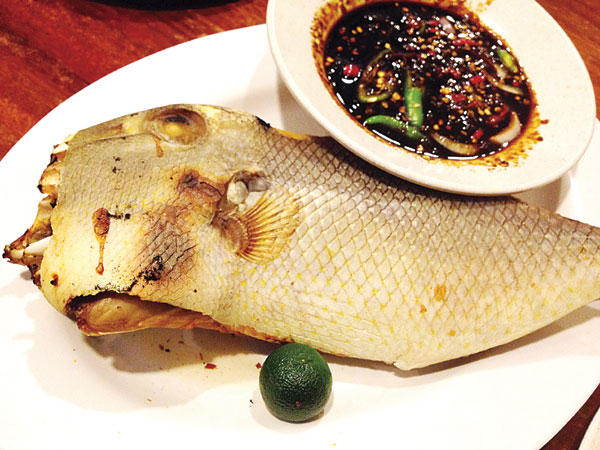 HARD AND SOFT: A tough skin hides the delicious flakey flesh of the leather jacket fish, served with a spicy dip. [Photo by Pauline D.Loh/Shanghai Star]
Experiencing local cuisine is one way to know a strange place better, and nowhere else is it more true than in Singapore. Pauline D. Loh takes us on a street food tour of her beloved city.
Have you eaten? Jia ba bo? Sek bao mei? Sudah makan? These every day salutations from one Singaporean to another betray our happy obsession with what goes into our tummies from breakfast to supper.
A unique mix of immigrant antecedents means we are blessed with a delicious mix of epicurean ingredients that sit harmoniously next to each other. In the average food court in the average residential enclave, Chinese hawker vendors rub shoulders with Indian roti prata cooks and Malay rice and noodle sellers.
Often the culinary influences blend, and there are Nonya mee siam or laksa stalls with long lines in front of them, and flamboyant Indian-Muslim coffee shopkeepers showing off their famous "pulled" tea acts.
To me, the most nostalgic flavor that speaks of home is found in the "nasi padang" stores selling Malay rice.
"Nasi Padang" or Padang Rice is originally named after a town in Indonesia that probably first created the concept, but Southeast Asia has a generous habit of sharing the best of everything, and throughout Indonesia, Singapore and Malaysia, you often find variations of the same theme, with local accents.
Platters of brightly colored sambals and curries are laid out in sparkling clean display cases, and the mak cik (aunt) behind the counter will have ready a plate of steamed white rice, waiting for you to make up your mind.