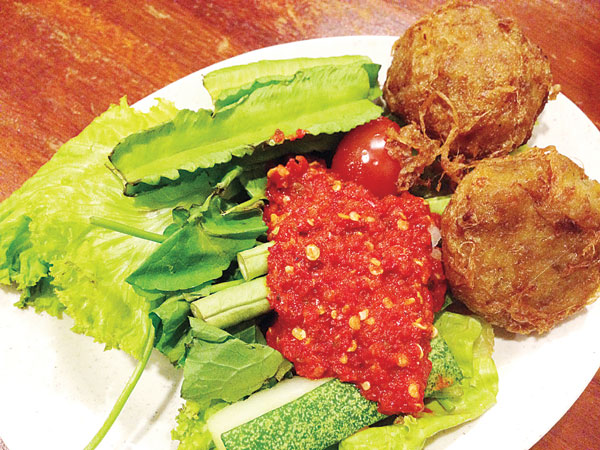 SALAD GREEN AND RED: Angled beans, snake beans, lettuce and cucumbers are dressed with more chili for a fresh green salad. Bergedil, or potato croquettes with a minced beef filling, are also a favorite. [Photo by Pauline D.Loh/Shanghai Star]
The Malay housewife has a reputation of making delicious food out of every part of the animal, and the dry-fried beef lungs at Hajiah Maimunah proves it.
It takes a lot of time and effort to make this cheap cut of meat palatable, and here, the slightly crisp morsels are clean tasting, very beefy and absolutely delicious.
Other counters at the restaurant offer single-dish meals like tauhu telor, a baby tower of bean curd cubes bound together by an egg batter and deep-fried till crisp. It is served on top of a bed of shredded cucumbers and doused with a peanut-chili sauce flavored with a mystic blend of fresh herbs.
Flavors and colors are so perfectly orchestrated that a meal here plays out like a symphony. And it definitely sings of home.
IF YOU GO
Hajiah Maimunah's Restaurant 11/15 Jalan Pisang, Kampung Glam, Off Arab Street, diagonally opposite the Sultan Mosque
+65 6291 3132